Hillary Clinton Interviewed by FBI As Part of Private Email Server Investigation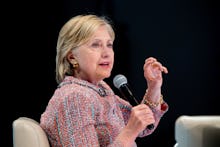 Hillary Clinton was interviewed by FBI officials on Saturday morning in the most recent chapter of the ongoing investigation into whether her use of a private email service was in violation of the law.
"Secretary Clinton gave a voluntary interview this morning about her email arrangements while she was secretary," Nick Merrill, a campaign spokesperson, said in a statement. "She is pleased to have had the opportunity to assist the Department of Justice in bringing this review to a conclusion."
According to the New York Times, the interview, which lasted about three and a half hours, took place at the FBI Headquarters in Washington, D.C.
Both Clinton's camp and the FBI declined to comment on the substance of the interview.
Sources with knowledge of the case told CNN that the Justice Department is expected to conclude its investigation prior to the Republican and Democratic conventions in July. 
In the instance of an indictment, the timing could potentially be critical to the Democrat's ability to nominate a different candidate in Clinton's place.
Even during a presidential race where Clinton's popularity continues to surge against her presumptive Republican opponent, Donald Trump, her ongoing struggles with concerns over the legality over her email server — along with a controversial meeting between her husband, Bill Clinton, and Attorney General Loretta Lynch at an Arizona airport on Monday — have remained stains on her campaign's reputation.
In response to the ensuing blowback from that meeting, which both Lynch and Mr. Clinton claim was purely social, the Attorney General conceded that she had decided in early spring to defer to the recommendations of the FBI and her staff in order to avoid a conflict of interest.
"People have a whole host of reasons to have questions about how we in government do our business," Lynch said at a conference in Colorado on Friday. "My meeting on the plane with former President Clinton could give them another reason to have questions and concerns."
Read more: