Christian Mingle Must Now Allow Same-Sex Matches Following Discrimination Lawsuit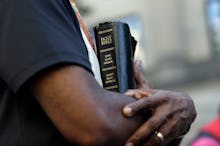 Dating site ChristianMingle.com will soon allow users to search for same-sex matches, courtesy of a "judge-approved settlement of discrimination claims," the Wall Street Journal reported on Thursday.
Under the terms of the settlement, the outcome of a lawsuit filed in California against dating site operator Spark Networks Inc. in 2013 by two gay men who claimed the company's refusal to provide same-sex matches constituted discrimination, Christian Mingle and other sites operating under the company's purview will simply ask whether users are men or women. The settlement also requires the company to introduce features to Christian Mingle making it easier for gay and lesbian users to find others on the site.
Other sites covered by the settlement include CatholicMingle.com, AdventistSinglesConnection.com and BlackSingles.com, the Journal added. According to a version of the settlement posted to the Journal's web site, Spark will pay out $9,000 to each of the plaintiffs and $450,000 in legal fees to the firm representing them.
The settlement appears to have struck a nerve in the right-wing media, with BizPac Review deeming the change a "terrible blow — yet another attack on liberty," and Red State opining the courts had been "Attacked By LGBT Activists And Suffers The Consequences."
On Friday, Christian Mingle's Facebook page posted an article with the headline "Why a Test of Faith is Something to Be Thankful For," accompanied by the caption "Trials are never fun, but it's helpful to know that God is working through them."
However, lawyer for the plaintiffs Vineet Dubey argued the exclusion of same-sex matches was a clear violation of California's anti-discrimination laws.
"I am gratified that we were able to work with Spark to help ensure that people can fully participate in all the diverse market places that make our country so special, regardless of their sexual orientation," Dubey told the paper.
Read more: