Fergie's "M.I.L.F. $" Video Takes Empowering Stand Against Breastfeeding Stigmas & Ageism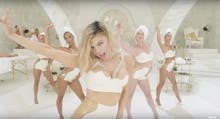 In Fergie's world, you would call it E-M-P-O-W-E-R-I-N-G. 
The 41 year-old rapper and elusive chanteuse — she hasn't released an album since 2006's (masterpiece) The Dutchess — released a new song and video for her single "M.I.L.F.$." Given that Fergie has spent more than half of her musical career spelling things out — in this video alone, she spells the words "broke," "independent," and "paid" — it's clear she's not the most subtle pop diva. But Fergie's video has more than a few subtle nods that push back against breastfeeding stigma, slut-shaming and the misogyny that women experience every day in American culture. 
Within the first few seconds of her video, Chrissy Teigen is shown breasfteeding in public. While carrying out a natural bodily function should be normal, breasfteeding is still riddled with stigma. Teigen admonishes the gawking milkman with a disapproving look. 
Aside from combatting breasfteeding stigma, Fergie also pushes back against ageism and sexism by having famous moms, including Kim Kardashian West, literally bathe themselves in milk — you know, that thing that breastfeeding produces. 
The effect complicates the conversation on motherhood and female sexuality — breasts produce milk, and yes, they're sexy. But breastfeeding in public does not give onlookers the right to ogle. 
Fergie raises the stakes on female sexuality in more ways than one, and as a whole it feels reminiscent of Nicki Minaj's "Anaconda." Minaj's booty ode drew heavy scrutiny for its explicit language in 2014, yet it allowed Minaj to play with her sexuality on her own terms. Fergie takes a similar stance to confront the social stigmas surrounding motherhood, which tend to rob or flatten a women's sexual agency. 
In this pursuit, Fergie gets some help from highly scrutinized mom Kardashian West, who has never allowed her motherhood and her sexuality to be at odds with each other, despite America's Madonna/whore complex, which tends to trap women in one role or the other. Fergie is wise to bring in Kardashian, as she, like Minaj, is a virtuoso at writing her own narrative rather than allowing one to be written for her. 
Fergie's video also allows women of diverse body types to play along in this ode to maternity. Plus size model Tara Lynn struts her stuff alongside model Gemma Ward and singer Ciara. 
Lynn is also a mother who shares snaps of her with her son, Finlay, on Instagram. 
Or course, Fergie's sexual agency is part of a music video, which is an ad for an album, which is an ad for a tour, which is all part of a capitalist machine. Sex has always sold, but Fergie's empowering visual shouldn't be dismissed just because it's designed to make money. Mothers need to make their M.I.L.F. money too. And in an age when women are still vilified for pulling out their breasts to feed our next generation, "M.I.L.F. $" is still ... how do you spell it? 
N - E - C - E - S - S - A - R - Y. 
Read more: