Famed Holocaust Survivor and 'Night' Author Elie Wiesel Dies At Age of 87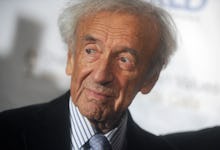 Nobel Peace Prize laureate and famed author Elie Wiesel, one of the few survivors of the Auschwitz concentration camp, died on Saturday at the age of 87, the Guardian reported.
Wiesel was best known for his haunting 1955 book Night, a recounting of his time at Auschwitz with his father, Shlomo Wiesel, who was murdered, along with his mother and one of his three sisters, by the Nazi regime in the camp system. According to the Guardian, it has sold over six million copies worldwide, and the book later became the first of a trilogy when he wrote two others titled Dawn and Day. By the end of his career, Wiesel had written over 40 books.
Menachem Z. Rosensaft, founding chairman of the International Network of Children of Jewish Survivors, penned a tribute to his late friend on Tablet Mag:
He often said that he could not, would not speak on behalf of the dead. He did, however, speak forcefully, eloquently for the collectivity of the survivors, and they revered and loved him for it. "Accept the idea that you will never see what they have seen—and go on seeing now," he wrote in his classic essay, "A Plea for the Survivors," perhaps subconsciously opening a window into his own heart, "that you will never know the faces that haunt their nights, that you will never know the cries that rent their sleep. Accept the idea that you will never penetrate the cursed and spellbound universe they carry within themselves with unfailing loyalty."
According to the Jerusalem Post, Wiesel won the Nobel Peace Prize in 1986 "for what the Norwegian Nobel Committee called his 'practical work in the cause of peace ... atonement and human dignity' to humanity."