California Makes Strict Gun Laws Even Stricter in Wake of Major Mass Shootings Across US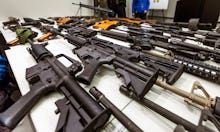 In the wake of both a December 2015 mass shooting in San Bernardino, California which killed at least 14 people and wounded nearly two dozen others, and another gun massacre at a gay nightclub in Orlando which killed 49 people, California has made its already strict gun laws even stricter.
Gov. Jerry Brown signed a sweeping package of gun control legislation on Friday, signing into law six different bills requiring background checks for ammunition purchasers and banning the sale of semi-automatic rifles with buttons that allow easy discharging and reloading of magazines, the L.A. Times reported.
According to the paper, other approved laws include a prohibition on the possession of ammunition magazines with a capacity of over 10 bullets and restrictions on the "loaning of guns without background checks to close family members."
Brown vetoed bills which would implement "gun violence restraining orders" for people deemed too dangerous to have a gun by a court, kept gun owners to a limit of one new gun purchase a month and requiring home gunsmiths "register [firearms] with the state and get a serial number so the weapons can be tracked," the Times wrote. Brown also vetoed a law which would have made all firearm thefts a felony.
"Taken together, these bills will save lives and make our communities, our families and our children safer," Senate President Kevin de Leon told the OC Register via email. "Where Republicans in Congress have turned a deaf ear, we have answered the cries of the mothers, fathers, family members and friends who have lost loved ones to gun violence."
Sam Paredes, executive director of Gun Owners of California, told the Associated Press "Independence and freedom and liberty in California has been chopped down at the knees and kicked between the legs."
San Bernardino Police Chief Jarrod Burguan expressed disappointment about the veto of the felony gun theft bill, telling the OC Register, "Handguns are traditionally worth about $400 or $600. We are literally catching people with stolen guns and all we can give them is a ticket for it. It's maddening."
Read more: