ISIS Bombings Kill At Least 281 During Ramadan Celebrations in Baghdad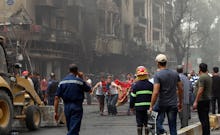 At least 281 people were killed during two bombings in Baghdad on Saturday, local police told the BBC. The Islamic State has claimed responsibility for both attacks.
During one of the last nights of Ramadan, while Iraqi citizens were converging upon Baghdad's central district of Karrada after sundown to shop and share meals after fasting, a refrigerator truck lined with explosives was detonated outside of a restaurant. Originally, the BBC reported the death toll as 125, but the death toll continued to climb in the days following the attack, according to the Baghdad Health Ministry.
Video footage posted to social media showed downtown Karrada ablaze in the aftermath of the attack.
Later in the night, a second explosive was detonated in the Shi'ite al-Shaab district north of Baghdad, killing five people, police and medical sources said.
As Iraqi Prime Minister Haider al-Abadi arrived at the scene of the first explosion to assess the damage, angry crowds accosted his vehicle with rocks and bottles, angry over what they perceived to be empty promises to safeguard against such attacks.
The violence comes just one week after a U.S.-led coalition was able to succeed in driving ISIS militants from their stronghold in Falluja. 
Jasim al-Bahadli, a former army officer and security analyst in Baghdad, told Reuters that the radical Islamic sect was likely "trying to compensate for their humiliating defeat".
"It was a mistake for the government to think that the source of the bombings was restricted to just one area," he said. "There are sleeper cells that operate independently from each other."
July 4, 2016, 9:34 a.m.: This story has been updated.