Johnny Depp Changes Tattoo for Amber Heard From "Slim" to "Scum"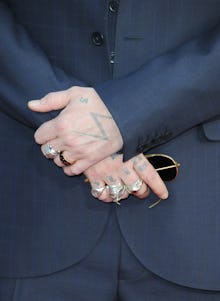 The "Wino Forever" solution was so much kinder than this one.
Johnny Depp's band, Hollywood Vampires, performed Friday in Bethlehem, Pennsylvania, putting the 53-year-old actor's most recent tattoo alteration on full display. Depp appeared to have changed the word "Slim," tattooed across his right knuckles, to read "Scum." The revision looks like a public rebuke of Amber Heard, Depp's soon-to-be ex-wife who recently accused him of domestic violence and whose nickname is Slim.
In late May, Heard testified in court that during a heated argument, Depp hit her in the face with her cell phone, leaving visible bruising on her cheekbone. She said he shouted violently at her, hit her, grabbed her by the hair and smashed up the apartment with a wine bottle. The court granted Heard a temporary restraining order that will hold until hearings later this summer. 
A text exchange with the actor's assistant appeared to document a longstanding pattern of abuse. Heard's friend and witness to the couple's fights, iO Tillett Wright, spoke out about the mistreatment she saw Heard suffer. Heard revoked her request for alimony after it clouded a conversation she said should've been about domestic violence. 
For his part, Depp has remained largely silence about the divorce. In addition to the "Scum" rewrite, the image of Heard he had tattooed on his bicep has since been inked over. It's reminiscent of the 1993 edit Depp made to his "Winona Forever" tattoo he made after splitting with then-girlfriend Winona Ryder, but different: "Scum" is not the best word a man accused of habitual spousal abuse could've chosen. 
Read more: