Former Trump Adviser Corey Lewandowski Just Defended Trump's Anti-Semitic Meme on CNN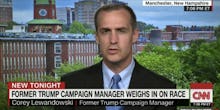 Republican presidential candidate Donald Trump tweeted a photo Saturday of Hillary Clinton's face superimposed onto a pile of money. Beside it, a Star of David-shaped bubble with the words "Most Corrupt Candidate Ever!" appeared.
Mic reported Sunday that the image tweeted by the Trump campaign had originally appeared on /pol/ — a neo-Nazi and white supremacist-run internet message board — as early as June 22.         
The original tweet was eventually deleted and replaced later in the day with an altered version that replaced the Star of David shape with a circle.
The controversy over whether Trump's social media team had knowingly sourced an anti-Semitic meme from an alt-right dominated message board reached the cable news talking heads at CNN, where newly hired contributor Corey Lewandowski — who previously occupied the role of Trump's campaign manager — defended his former boss Sunday.
"To read into something that isn't there is... I think that's the mainstream media trying to attack Donald Trump for something that really isn't there," Lewandowski said. 
When pressed on why, if the tweet were benign, the Trump campaign would release an updated version sans the Star of David, Lewandowski deflected by saying the criticisms were "political correctness run amok."
Despite having signed a nondisclosure agreement during his tenure as Trump's campaign manager that prohibits him from badmouthing the campaign, Lewandowski was hired in June as a political contributor for CNN.
The beginning of Lewandowski's career as a pundit got off to a rocky start, with many media outlets citing his volatile relationship with journalists — including Michelle Fields, the Breitbart reporter who claimed he shoved her so hard it left bruises after a campaign rally in March — and his link to the Trump camp as the main reasons.
Read more: