Zendaya Drags Man Who Asked Twitter Users If They Would Rape Her In A Real 'Purge'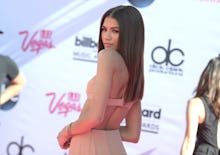 Zendaya isn't here for your rape "jokes" or hypotheticals that promote violence against women.
When Twitter user @ogxbenson polled his followers who they would rape if the Purge — a movie based on a fictional night where all laws are lifted — were real, including photos of Zendaya, Rihanna, Beyonce and Nicki Minaj, the Disney star immediately called him out for the disgusting question.
When @ogxbenson noticed Zendaya responded to his tweet, he seemed pleased with the reaction. But, Zendaya quickly shut that down, too.
In a reaction that is probably not surprising to any woman who has an active Twitter account, many men actually responded to the original tweet with who they would like to rape if given the opportunity to do so with no consequences, one going as far as to say he has a "thirst for young flesh."
Considering 97% of those accused of rape will never face prosecution, the joke was not only unfunny, it is shockingly ironic. 
The fact that @ojxbenson chose to use four black women in his disgusting poll also points to another disturbing fact: rape and violence against black women in the U.S. is pervasive and often not prosecuted. 
According to the International Business Times:
The U.S. Census Bureau estimates there are 20.6 million black women and girls living in the country, or about 7% of the U.S. population. In 2005, black women accounted for 22% of the intimate partner homicide victims, according to the Institute on Domestic Violence in the African-American Community.
At the time of this writing, @ogxbenson's tweet and account remained active.
• This Woman's Powerful Poem About Brock Turner and Rape Culture Is Going Viral