California Gun Rights Group Promises to Defy New Gun Laws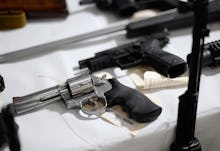 A group of 50 gun rights activists protested outside Sacramento, California's Cesar Chavez Plaza on Saturday against a newly enacted package of gun control measures, saying they will refuse to comply with the new laws, reported the Sacramento Bee.
The new laws — which ban semi-automatic rifles which discharge ammunition magazines at the click of a button, require background checks for people who wish to purchase ammunition and ban magazines which can hold over 10 bullets — were passed in the wake of mass shootings in San Bernardino in December and another gun massacre in June at a gay nightclub in Orlando, Florida.
According to the Bee, the protesters held signs which said "WE WILL NOT COMPLY."
"He passed them yesterday before we could get out here, which sort of threw a wrench in the plans," protest co-organizer Cory Gwathney told the Bee. "Now we're just trying to send the message that we're probably not going to comply. They're infringing on our rights, and we're not going to stand for that."
"There needs to be a complaint filed with an injunction because these are an unconstitutional set of laws that have been passed, and they shouldn't be able to become laws until they are reviewed by a judge," Sacramento branch of California Republic Assembly president Jorge Riley added. "It's unconstitutional, that's why we have judicial review ... people will still have guns, but they'll have them illegally."
While states including California have mostly upheld the constitutionality of such restrictions in state court, Politico's Tal Kopan reported federal courts have not given much guidance on the issue, though the U.S. Supreme Court would likely side with the state.
"I suspect [the court] would uphold such a ban, especially after such high-profile shootings," UCLA School of Law Prof. Adam Winkler told Politico. "And I suspect that many judges, like many other people, would believe you don't need an assault weapon for self-defense."
Read more: