'Big Brother 18' Episode 6 Recap: Nominations and Road Kill Competition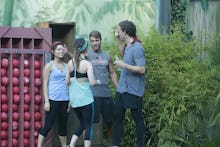 Last week on Big Brother 18 one of the season's most outspoken contestants, Jozea, went home. Now his allies are in danger. 
Head of Household
When we last left the houseguests, they were in the middle of a Head of Household challenge in which they had to walk across a series of logs to collect balls and bring them back.
The rules are simple: If someone falls off the beam they're out of the competition and their team loses a ball pile. The first team to collect all of the balls and bring them back wins. The winning team has immunity for the week and chooses a team member to be Head of Household. 
Category Four notched that win; they decided to give the Head of Household to Paulie, who was just nominated for eviction last week. 
Meanwhile James threw the competition so his team — Team Unicorn, made up of Bronte, Victor and Natalie — wouldn't win. James is actually working for another alliance, the 8-Pack, which is comprised of him, Frank, Nicole, Da'Vonne, Corey, Michelle, Zakiyah and Tiffany. Paulie also works with this alliance, though he's not officially part of the 8-Pack. By throwing the competition, James showed his alliance to the 8-Pack and stopped Team Unicorn from getting immunity for the week.
Nominations
As Head of Household, Paulie is responsible for nominating two of his fellow houseguests for eviction. Paulie nominated Paul and Bronte, though he has said that his real target is Victor. 
Victor is suspicious and (correctly) believes the plan is to backdoor him and send him home. This season, it's even easier to backdoor someone because of the new Road Kill competition. 
The winner of the Road Kill competition can secretly nominate a third houseguest for eviction. 
Road Kill
In this week's Road Kill competition, the contestants are presented with a shelf of Big Brother memorabilia, each of which had a price tag on it. Each houseguest has six tags to assign to different items. The goal is to put the tags on the right items so the total of the prices adds up to $18. 
Victor was the winner of this week's Road Kill competition. He immediately told Paulie and Frank that he won, trying to show his allegiance to them. Bad idea, Victor. Paulie and Frank are actively working against him and this gives them more fuel. 
He ended up nominating Tiffany, a member of the 8-Pack. 
Tune in to CBS on Wednesday at 8 p.m. Eastern to see who wins the Power of Veto. 
Read more: