If Washington, D.C., Becomes a State This Year, It Will Be Called "New Columbia"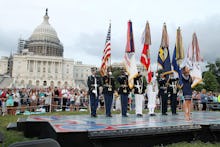 If Washington, D.C., becomes the nation's 51st state this year, it will cease to be the District of Columbia and thereafter be known as the state of New Columbia.
That's the name settled upon by "Mayor Muriel E. Bowser, Council Chairman Phil Mendelson, D.C. shadow Sen. Paul Strauss and others on the five-member commission" planning the 2016 bid for D.C. statehood, the Washington Post reported Wednesday.
New Columbia wins out over other failed choices for the name, including Anacostia, Potomac, Douglas Commonwealth, Capital State and New Washington D.C.
As a federal district rather than a state, D.C.'s local government can be overruled in almost any matter by Congress, and it lacks a senator or a voting member of the House of Representatives. 
D.C. officials have long backed full statehood; according to WAMU 88.5, a renewed call to arms on the issue will include "a constitutional convention, a referendum on whether D.C. should become a state and, if all goes to plan, a formal petition delivered to the next president and Congress to grant the city statehood."
"Unless the rest of the United States, we do not have a voice in the halls of Congress," Bowser said recently, Mediaite reported. "D.C. residents pay billions of dollars each and every year in federal taxes — more than many states — yet we have no vote in the house, and we don't have anybody in the Senate."
The Democratic Party has come close to formally naming D.C. statehood as part of the party platform at the Democratic National Convention, which will be held later this month. But Republicans have long opposed any effort to change the district's status — possibly because D.C. is a progressive stronghold, which has not seen less than 84.64% of the popular vote go to the Democratic nominee since at least 1992.
Read more: