Suspected Car Bomb Rocks Saudi Holy City of Medina by the Prophet's Mosque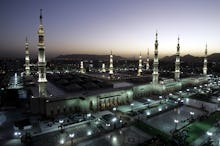 An explosion of some kind, possibly a suicide attack or car bombing, rocked the area outside a mosque in the city of Medina in Saudi Arabia on Monday, the BBC reported.
According to the news agency, no casualties have yet been reported, though another bomb blast was reported earlier in the day in the city of Qatif. CNN India reported up to two people are believed to be dead following the explosions.
The BBC reported the explosion was outside al-Masjid an-Nabawi (the Prophet's Mosque), the burial site of the Prophet Muhammad, although it reported Okaz newspaper said it may have been targeting security forces rather than worshipers.
Medina is the second holiest city in Islam, second only to Mecca, and the incident occurred two days before the month of Ramadan's most important day of observance, Eid al-Fitr.
Daily Sabah correspondent Ragip Soylu posted video from the site of the Medina attack, showing a large fire burning in what appeared to be a parking lot.
This is a breaking news story and may be updated as more information becomes available.
Read more:
Correction: July 5, 2016