Lena Headey Doesn't Believe Cersei Lannister's Reign on 'Game of Thrones' Will Last Long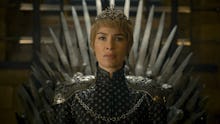 While Cersei Lannister ended season six of Game of Thrones on an explosive high note — sitting on the Iron Throne as her incestuous partner, Jaime Lannister, looked on with angst — the truth is that her reign over Westeros will probably be short-lived. Sure, she has a zombified version of the Mountain and creepy children with knives on her side, but as actress Lena Headey posits, it's just the climax of the chaos of the series. 
"Surely not!" Headey said, on whether Cersei's reign will last long, speaking with Entertainment Weekly. "Not a chance in hell. It's a moment of punctuation in the madness." 
Indeed, the Lannister's have run out of allies in Westeros. The Boltons have been wiped out, and Arya Stark took care of Walder Frey (not that he'd be that useful, anyway). Meanwhile, as Headey also noted, Daenerys Targaryen's massive fleet of ships — and three fully-formed dragons — are sailing to Westeros as the season ends, which doesn't bode well for Cersei once they reach King's Landing. 
"I got goosebumps reading, 'The ships are coming,'" Headey told EW. "They keep teasing us every season and I don't know what's going to happen because nobody tells you anything. I have to assume there's going to be one helluva battle. Who knows? It's such a mystery." 
But fans and Cersei herself can agree: It's a matter of when, not whether, Cersei is killed off in the series (and Headey said she hopes it's "kinda glorious and gory"). But if anyone deals the final blow, Headey said it would be most poetic at the hands of brother Tyrion Lannister or Arya, checking the biggest name off of her list. 
Either way, it certainly wouldn't bother the smallfolk (especially the family of that poor guy who got crushed by the Sept of Baelor's bell).  
Read more: