Donald Trump Is Getting Dragged on Twitter for His Defense of an Anti-Semitic Meme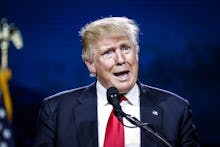 Donald Trump's campaign for the presidency has predominantly been characterized by his 
The meme is a dig at presumptive Democratic candidate Hillary Clinton, calling her the most corrupt candidate to ever run for office — her image is plastered atop a backdrop of $100 bills, with a red Star of David next to her face. Mic discovered that the meme, which was shared by Trump over the weekend, originated weeks ago on 8chan's /pol/ message board, a forum for neo-Nazis and white supremacists.
Since sharing the meme, the candidate's mentions have been loaded with negative responses. Many users shared images from the Holocaust bearing the Star of David and expressed their disbelief that the Republican presumptive nominee could possibly have ignored the connotations of placing a religious symbol for Jews atop $100 bills and the bolded words: "Most Corrupt Candidate Ever!"
Trump defended himself on Twitter, blaming the "dishonest media" for its interpretation of the graphic, saying they were "trying their absolute best to depict a star in a tweet as the Star of David rather than a sheriff's star or plain star!"
"Donald Trump's use of a blatantly anti-Semitic image from racist websites to promote his campaign would be disturbing enough, but the fact that it's a part of a pattern should give voters major cause for concern," Sarah Bard, Jewish outreach director for the Clinton campaign, told the New York Times. "Now, not only won't he apologize for it, he's peddling lies and blaming others."
The Trump camp has attempted to move on from the media fiasco as quickly as possible, suggesting he was busy making choices for a potential running mate, including Iowa Sen. Joni Ernst's name in a tweet.
Read more: