Snoop Dogg to Headline "Unity" Event After Democratic National Convention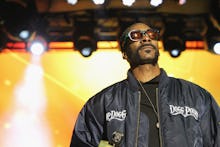 Democrats will be looking to an out-of-the-box figure to help bring their party together after Hillary Clinton accepts the Democratic presidential nomination at the Democratic National Convention in Philadelphia later this month.
Rapper Snoop Dogg will headline a Democratic "unity" event at the Electric Factory, a music venue in the heart of Philly, to bring together supporters of both Clinton and Sen. Bernie Sanders, after Clinton officially becomes her party's standard bearer.
The event will be hosted by a trio of Democratic super PACs — Priorities USA, the super PAC backing Clinton, Senate Majority PAC, which seeks to elect Democrats to the Senate, and House Majority PAC, which helps boost House Democrats.
Earlier in the week, the groups will also host a party featuring a performance by the Grammy Award-winning group, Los Lobos.
In 2012, all three super PACs also hosted a convention unity bash, which included performances by the Scissor Sisters and Pitbull, as well as an appearance by Jessica Alba and Cash Warren.
Snoop has posted numerous times about the 2016 campaign on his social media accounts — though his musings often made it unclear as to which candidate he supported.
In a bizarre Instagram post at the height of the primary, Snoop posted a profanity-laced video — in which he face-swapped with President Barack Obama — calling Sanders and Trump "old motherfuckers."
"I would never tell you who to vote for or not to vote for, but you better not fucking vote for Donald Trump or Bernie Sanders, them is two old motherfuckers that don't deserve to be in the White House," Snoop said. 
He posted a tweet July 2 seemingly mocking Trump as a plant to get Clinton the nomination.
And in March, Snoop posted yet another tweet seemingly mocking Sanders' age — pasting his face onto a movie poster for Weekend at Bernie's, a dark comedy about two men who carry around their dead boss for a weekend.
Read more: