Beau Solomon: Arrest Made in Murder of Wisconsin-Madison Student Found Dead in Rome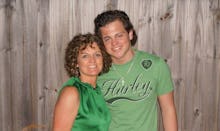 On Tuesday, Italian police detained homeless man Massimo Galioto in the robbery and murder investigation of 19-year-old University of Wisconsin-Madison student and cancer survivor Beau Solomon, who had just landed in Rome Thursday for a study abroad program with John Cabot University.  
Solomon, who had gone missing around 1 a.m. local time after going out to a popular pub with friends on the day he arrived, was found dead in the Tiber River on Monday. He had a head wound, was wearing a bloody shirt and his wallet and cell phone were missing. More than $1,700 was found to have been charged on Solomon's credit card, the New York Times reported, including a purchase in Milan. 
His death is being treated as a "criminal investigation," according to the University of Wisconsin-Madison.
His roommate reported him missing on Friday morning after Solomon missed orientation.
Several witnesses claim to have seen a group of people tossing a body over a bridge and into the river on Friday morning, according to Italian newspaper La Repubblica. The group could be comprised of "punkkabesta" members, or "homeless anarchist punks," Buzzfeed reported.
Solomon's parents traveled to Italy on Sunday for the investigation. The last they heard from Solomon was a text that said, "So amazing here," at around 11 p.m. on Thursday, according to the Guardian. 
"All of us at UW-Madison are greatly saddened by this loss," university chancellor Rebecca Blank said, according to the Milwaukee-Wisconsin Journal Sentinel. "Beau was a bright and caring young man who lived the Wisconsin Idea through his work at Badger Boys State and his desire to travel and experience other cultures. Our hearts go out to Beau's family and friends at this difficult time."
Solomon had fought cancer from a young age until he was 12 years old and wanted to become a lawyer, his brother Jake Solomon said, describing him as the "toughest S.O.B. that we've ever met."
Correction: July 5, 2016
Read more: