Puerto Rico's First LGBTQ Monument Is a Heartwarming Tribute to Pulse Shooting Victims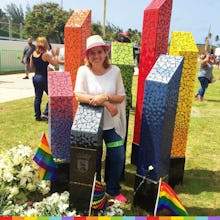 Puerto Rico debuted a monument in honor of the fight for LGBTQ rights. 
The monument honors the one year anniversary of marriage equality and stands in memory of the victims of the Pulse nightclub shooting in Orlando, Florida. 
It consists of seven columns decorated with multicolored tiles representing the LGBTQ flag, Spanish-language news outlet Noticel reported. The monument is located in San Juan's Third Millennium Park. 
"We're celebrating life," said Carmen Yulín Cruz Soto, mayor of San Juan, according to Noticel. "We have to work together to eradicate discrimination and homophobia. We have to raise our voice for justice and equality for each human. We must aspire to have a country where everyone is equal and no one is judged for who we love."  
The monument features the names of those who were killed in the shooting at Pulse, including 23 Puerto Ricans. 
Inscribed into the monument are the words, written in Spanish: "This tribute to life strengthens our commitment to fight against hate — the product of homophobia — with love and respect. Our slogan resounds in all our hearts: Love is love, is love, is love..." 
The final phrase echoes the words of Lin-Manuel Miranda in a speech he gave at this year's Tony Awards, which took place less than 24 hours after the shooting in Orlando. 
While the Supreme Court case Obergefell v. Hodges made marriage equality the law of the land nationwide, Puerto Rico's ban was lifted two weeks later.
Cruz Soto said the monument should rally people to "continue the fight for respect, love and equality." 
She also said San Juan has a responsibility to make a space where "love displaces hate and homophobia. After all, love is love."