FBI Director James Comey: "No Charges Are Appropriate" in Hillary Clinton Email Scandal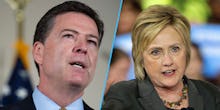 The FBI will not recommend that Hillary Clinton face criminal charges stemming from her use of a private email server during her time as secretary of state, FBI Director James Comey announced Tuesday morning.
In a dramatic statement, Comey called Clinton's use of private email servers and her handling of classified information "extremely careless," but concluded that "no reasonable prosecutor" would bring charges against her or her aides. The final decision on whether to bring charges lies with the Department of Justice.
The FBI's recommendation not to charge Clinton wraps up a year-long investigation into Clinton and her top aides that's been an unwelcome distraction for the campaign.
The slow drip of news regarding her email use made a significant dent in her popularity, and has led a majority of Americans to say the former secretary of state is not honest or trustworthy, according to multiple polls.
And while takes away any uncertainty for party officials before they meet in a little less than three weeks to officially nominate Clinton as their standard bearer at the Democratic National Convention in Philadelphia, it also provides Republicans with fodder to use on the trail.
In what Comey described as a "painstaking undertaking" to review the 30,000 emails Clinton's legal team provided to the FBI, he said investigators found "110 emails in 52 email chains have been determined by the owning agency have been determined to contain classified information."
Of those chains, eight contained top secret information, the highest security classification. Thirty-six chains contained secret information, and another eight contained confidential information at the time they were sent.
An additional approximately 2,000 emails were "up-classified" — or determined to be confidential after they were sent, Comey said.
Comey also described the security culture of the Clinton State Department as "generally lacking," and said Clinton herself was "extremely careless," saying she used her personal email on an unsecure server even on hostile foreign territories.
Not over yet: While Comey took pains to describe the investigation as thorough and impartial, Republicans will almost certainly cast doubt into the veracity and impartiality of the investigation in the wake of a chance meeting between former President Bill Clinton and Attorney General Loretta Lynch on an Arizona tarmac last week.
Lynch admitted that the encounter "cast a shadow" over how the investigation was being handled, and said she would accept any recommendation the FBI and career prosecutors handed her way.
Late Tuesday morning, presumptive Republican nominee Donald Trump weighed in on Comey's statement, using the opportunity to hammer home his message that "the system is rigged":
Correction: July 5, 2016
Read more: