Amy Schumer Offers a Big, Patriotic F*ck You to Body Shamers With This July 4 Instagram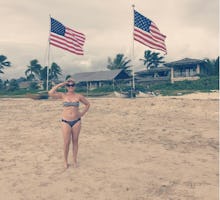 Amy Schumer knows her worth: It's roughly equal to one American treasure.
In celebration of the Fourth of July, the comedian posted to Instagram a picture of her saluting self in front of not one but two billowing flags. The caption: "An American treasure," and a big patriotic fuck you to body shamers.  
The shot attracted a smattering of rudeness from predictable trolls, but largely, the reaction was positive. Fans praised her figure, thanked her for promoting self-respect and an IDGAF attitude and called her brave.
But calling Schumer brave is, as Schumer herself made clear in a May episode of Inside Amy Schumer, the last comment she wants people to leave on a photo of her body. However well-intentioned the word may seem, it's not a compliment when applied to a photo of a woman in a swimsuit. Indeed, having a body while female should not count for bravery. 
Especially when, in 2016, taking a picture of oneself in a swimsuit and posting it on social media is a normal thing that people do on the Fourth of July, famous or not. And when a picture of Taylor Swift and her squad of similarly slim, bikini-clad celebrity girlfriends lands online, no one calls it brave.
That's why Schumer's body positivity is both welcome and necessary. As she wrote in a head-on confrontation of her trolls in May, when she Instagrammed a photo of herself in a bathing suit: "This is how I look. I think I look strong and healthy." Haters will always hate, and Schumer will always troll them in kind. A true American treasure. 
Read more: