Lady Gaga Finally Getting Her Driver's License Is All of Us Getting Our Driver's Licenses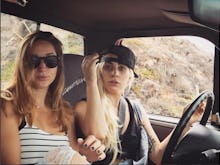 There are few days that are more vindicating and empowering than the day one gets their driver's license.
For many in the United States, it's the closest thing available to a right of passage, a day when one finally becomes a responsible, errand-running adult. 
For 30-year-old Lady Gaga, that day was Friday.
"I finally got my license after years of driving [with] an adult present and a learner's permit," Lady Gaga posted Friday. "I'm free. Rollin' with the homies."
The picture appears to be her first post-victory Instagram. But Lady Gaga captured the whole agonizing affair, from the in-class exam to the road test. Her attempts to stay stylish and poised through every stage are all of ours.
Praise be to the god that protects us when we parallel park.
It's somewhat comforting to know the lavish lifestyles of the rich and famous don't exempt them from life's most irritating realities — like taxes and the DMV. Lady Gaga is due all the same congratulations for surviving them. Now that she's all grown up, perhaps she can stop studying her traffic patterns and get back to back to making ARTPOP's long-awaited follow-up.
Read more: