Louise Linton's Memoir on Her Year in Zambia Is Being Slammed for Its White Savior Cliches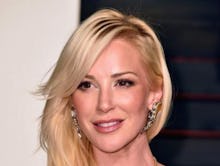 Scottish actress Louise Linton's recently self-published memoir In Congo's Shadow: One Girl's Perilous Journey to the Heart of Africa that details her 1999 gap year in Zambia is being slammed by critics, especially Zambians, as being not only dripping in white savior complex — as in having a patronizing, oversimplifying and colonialist narrative — but also fabricated.
The book, which had an excerpt published in the Telegraph on Friday, describes an 18-year-old Linton as having chosen a gap year in "Africa with hopes of helping some of the world's poorest people." It quickly turned into a "living nightmare" when she supposedly stumbled upon the Congolese War. 
Critics have pointed out Linton's inaccuracies and painfully racist tropes, and many are expressing their anger with the hashtag #LintonLies. Some have called her action a product of white privilege. 
Other people are asking for the Telegraph to take down the article, and for the minister of information of Zambia to demand Scotland to issue an apology. 
In her memoir, Linton describes stereotypes, from a "gap-toothed child with HIV" to contracting malaria, experiencing "monsoon season" hiding in a "straw hut" from "armed rebels" because of her "'skinny white muzungu with long angel hair.'"
"I know that the skinny white girl once so incongruous in Africa still lives on inside me," she wrote in her memoir. "Even in this world where I'm supposed to belong, I still sometimes feel out of place. Whenever that happens, though, I try to remember a smiling gap-toothed child with HIV whose greatest joy was to sit on my lap and drink from a bottle of Coca-Cola."
Aside from the glaring reinforcement of stereotypes, many Zambians have pointed out the inaccuracies of Linton's writing: Zambia is a landlocked and savanna-terrained country, meaning there's no "monsoon season" or "dense jungle canopy." It was also not the site of "the Hutu-Tutsi conflict in neighboring Congo," as she claimed. That occurred in Rwanda. Another person living in Zambia at the time said on Facebook that the supposed rebels were actually "fleeing the conflict further north," according to BuzzFeed. 
In her now-deleted Twitter account, Linton had apologized, saying she was "genuinely dismayed and very sorry" that she offended people, which was "the very opposite of my intent." In addressing the claims of fabrication go, Linton told BuzzFeed that her "editor and publisher" who fact-checked the memoir is unreachable and in the U.K. until Wednesday. 
"When you think the people from your fictional Zambian jungle will never find your so-called memoirs," one Twitter user wrote about Linton's book. 
Read more: