'Miss Saigon' and 4 Other Inclusive Shows Coming to Broadway This Season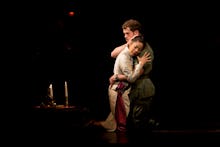 Broadway is coming off one of its most diverse seasons in history, featuring a string of productions starring and created by talent of color. Two of those shows won top prizes for best musical (Hamilton), revival (The Color Purple) and top acting prizes for their stars. Both are still running as Broadway heads into the new season.
However, this season is looking notably less inclusive. There are five shows currently on the books that feature lead performers of color, and none look like seismic hits just yet. Hamilton star and Tony winner Leslie Odom Jr. warned of this before the Tonys: "What I think we're having is a rare moment. What we really need to pay attention to is the next two seasons."
The test will be how well these five shows do next season. Here's a rundown of each.
(Note: We've only included shows that have announced rough dates in this list. Other inclusive shows announced for the 2016-17 season but without firm debut dates include biographical musical Josephine, about Josephine Baker and starring Deborah Cox, and Gotta Dance, a musical adaptation of the 2008 documentary film. The full list of potential 2016-17 shows can be read on Playbill's website.)
Motown the Musical 
Performances begin: July 12
Motown the Musical first ran on Broadway from 2013-2015, promising to return in 2016 after touring. It was an unusual situation — but the show is actually returning for the summer. The musical is almost exactly what it says on the tin: a jukebox musical filled with Motown songs from artists like Diana Ross and Smokey Robinson. The show's closing again in November, so fans should get in while they can.
Cats
Performances begin: July 14
In London's West End, the newest production of Cats featured former Pussycat Doll Nicole Scherzinger as lead actress Grizabella. However, she turned it down for Broadway, so the role went to another pop star: Leona Lewis. It's a major opportunity for Lewis, who never quite produced success like her first single, "Bleeding Love," enjoyed in the United States. Will this role be her reintroduction to American audiences?
Jitney
Performances begin: December 28
Broadway has played host to titanic plays by playwright August Wilson, including Fences, one of the installments in his American Century Cycle. The first of those installments — his first play ever, in fact — is heading to Broadway. Interestingly, despite being his first, it also never made it to Broadway before: This will be Jitney's debut.
According to Playbill, Jitney is a dramatic work about "a group of men who drive unlicensed cabs, or 'jitneys.'" Like the other American Century Cycle plays, it's about black men and women in the 20th-century United States. No cast has been announced yet.
Amélie
Performances begin: spring 2017
Whatever sadness lingered after Eliza Schuyler-Hamilton herself (Phillipa Soo) announced she was leaving Hamilton was instantly replaced by joy at news of her new role. The Tony nominee will play the lead role in the upcoming musical adaptation of Amélie. The stage version of the beloved movie has big expectations ahead of it — and choosing a nonwhite actress to play the title role is a great sign. 
True progress on Broadway means not only producing more works with definitively black, Latinx, Asian, etc. viewpoints, but also casting people of color in traditionally white roles. Now, it's up to Soo and her company to deliver a great show.
Miss Saigon
Performances begin: spring 2017
In 2013, Eva Noblezada was a high schooler competing in the finals of the National High School Musical Theatre Awards — also known as the Jimmys. Her performance there was enough to catch the eye of producer Cameron Mackintosh's casting director. Mackintosh is behind revivals of classics as Les Miserables and The Phantom of the Opera. He was preparing a revival of Miss Saigon to play in the West End, but needed a young actress of Asian descent to play Kim.
Noblezada and the production were a hit overseas, so Mackintosh is transferring them both to Broadway in spring 2017. The show's plot is pretty deeply problematic, but Noblezada is a star on the rise. Considering the lack of Asian-American actors on Broadway, having such a bright new talent is great news. After Miss Saigon becomes (presumably) a huge hit, Broadway's job will be to find more, better roles for Noblezada beyond this show.
Read more: