This Algorithm Could Decide Which Homeless People Get Help — It's Not As Evil As It Sounds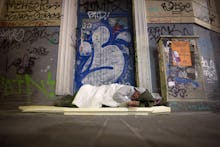 Not all homelessness can be addressed the same way — different situations need different solutions, and different solutions mean different costs. In Santa Clara County, California, 47% of the county's spending on homelessness relief projects goes to just 5% of the homeless population.
An algorithm called the Silicon Valley Triage Tool is going to figure out just who those 5% are. If the project can identify and house just 1,000 high-cost individuals, it could save Santa Clara County $19 million a year, Mother Jones reported.
The algorithm will use millions of data points to evaluate people based on 38 variables that might lead to expensive, long-term homelessness like drug abuse, repeated arrests or chronic illnesses that could result in repeated visits to the emergency room.
But not all algorithms that set out to streamline justice end up doing good in the world. Systems that predict crime the same way the Triage Tool wants to predict long-term homelessness often end up reinforcing biased policing habits, and algorithms that hand out prison sentences end up handing out longer sentences to black people.
The difference here, potentially, is the intervention. Predictive crime mapping and recidivism algorithms send in more cops and more time behind bars. The Triage Tool targets people in order to give them more help, not more surveillance or jail time.
"Instead of just throwing money at the problem in a scattershot approach, we need to invest where we're going to see the biggest gains," Destination:Home director Jennifer Loving said to Mother Jones. "Maybe it sounds very Silicon Valley, but it just seems obvious."
Read more: