Traditional Arab Clothing Does Not Mean I'm a Terrorist, Says Emirati Man Detained in Ohio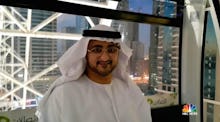 An Emirati man detained by police in Ohio last week explained to NBC News that his traditional Arab clothing does not, in fact, make him a terrorist.
"This is our dress," Ahmed al-Menhali told the network in an interview Monday. "I'm sad, too sad, too much sad," he said of the incident.
The United Arab Emirates native was wearing a white headscarf and robe — known as a kandura — at a hotel in Avon, Ohio, Wednesday when he was handcuffed at gunpoint by police and accused of belonging to the Islamic State, or ISIS.
A relative of one of the hotel clerks called 911 when he saw al-Menhali talking on a cell phone in the lobby.
"There is an Arabic male in full headdress, several cell phones, claiming his allegiance to ISIS," the relative told the dispatcher, according to audio footage obtained by NBC News.
Police armed with assault rifles quickly converged on the hotel, handcuffing al-Menhali on the ground and searching him.
As it turned out, al-Menhali had been in the US for months seeking medical treatment in Cleveland. He was wrapping up his stay by touring the area, and was on the phone with Booking.com trying to arrange lodgings at the time he was detained, according to NBC News.
Shortly after being handcuffed, al-Menhali fainted and had to be taken to a local hospital.
Avon Mayor Bryan K. Jensen apologized for the mix up on Monday — but not before the UAE issued a travel warning for its citizens.
"This was a very unfortunate incident and does not reflect our community," Mayor Jensen wrote in a statement.
The Emirati government has since warned travelers not to wear their kanduras when visiting the US, according to NBC News.
Unfortunately, what happened to al-Menhali is increasingly common in the United States.
Since November, at least 14 people — who either are, or appeared to be, Muslim or Arab — have been removed from commercial airline flights or had problems during boarding processes because fellow passengers suspected they might be terrorists.
This included an Iraqi-born refugee and college student named Khairuldeen Makhzoomi, who was kicked off a Southwest Airlines flight and questioned by the FBI in April after a passenger heard him speaking in Arabic on his cell phone. 
Read more: