This Racist, Pro-Donald Trump 4th of July Parade Float Called Obama "Lying African"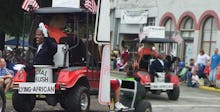 A Fourth of July parade float in a small town in Indiana is being criticized for a depiction of President Barack Obama that many are calling "hateful," "disrespectful" and overtly racist. 
The float, which rolled through the Independence Day Parade in Sheridan, Indiana, over the weekend, was a golf cart reportedly decorated with a model of Obama in a toilet, with the words "Royal Flush" and "Lying African" on it, reported the IndyStar. The cart had signs supporting Republican presidential candidate Donald Trump on the top, and the driver sported an orange jumpsuit and a blond wig.
The golf cart was apparently decorated and driven by 73-year-old Sheridan resident Don Christy, who reportedly told the IndyStar that he was making a joke.
"I apologize to anyone I offended, which would be a total liberal. I have my right to say things," Christy told the IndyStar. "Isn't that what the Fourth of July's about? Freedom."
The parade was organized by the Sheridan Lions Club, which reportedly approves all entries — but Christy told IndyStar that he didn't officially enter the parade. Christy said "he lined up with other floats at the high school parking lot and was waved along when the parade started," IndyStar reported.
The display was upsetting for at least some parade-goers. "The parade, it's for kids. This is Independence Day," Darryl Brownie, who watched the parade with his young children, told the IndyStar. "It was just wrong."
Brownie said he shared photos of the offensive float on social media because he wanted to call attention to "how disrespectful it was."
Read more: