Apple's iOS 10 Will Make Organ Donation as Easy as Tapping a Button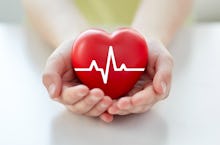 Silicon Valley imagines a world in which donating organs, as well as finding matches, will be as easy as matching on Tinder. With Apple's new iOS 10 software upgrade, the tech world will be one step closer to that goal by allowing users to enroll in Donate Life America's National donation registry.
Apple COO Jeff Williams described the update as "a simple process that takes just a few seconds and could help save up to eight lives," Engadget reported Tuesday. The new feature will be made available in the Health app that's preinstalled on all of Apple's smartphones. 
The move is in part inspired by the late Apple founder Steve Jobs, who was passionate about the cause and threw his weight behind efforts to make California's organ donation process more efficient with a 2010 bill that was signed into law. Apple CEO Tim Cook offered to donate his liver to Jobs, who died in 2011 of respiratory arrest following a battle with pancreatic cancer.
But iPhone fans will have to wait until about September, when Apple typically unveils its latest smartphone and upgrades at the Apple Keynote. "On average, one person dies every hour in the United States waiting for an organ transplant because the demand for lifesaving transplants far exceeds the available supply of organs — and one donor can save as many as eight lives," Donate Life CEO's David Fleming told Engadget. 
Read Apple's press release about the Health app update here.
Read more: