Kylie Jenner Opens Up About Fame and Anxiety on the Latest Episode of 'KUWTK'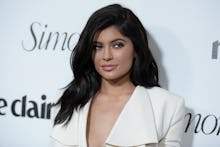 On Sunday night's episode of Keeping up With the Kardashians, the youngest member of the Kardashian-Jenner brood said she's sick and tired of her fame. 
"I just feel like I've been dealing with anxiety for so long," Kylie Jenner tells sisters Kim and Kourtney. "Some people are born for this life and some people aren't. I just know I'm not supposed to be famous." Over a family dinner, Kylie told her mother Kris Jenner she's "having really bad anxiety lately."
Kylie has lamented her celebrity before, telling Khloe in a previous episode this season that she wishes she could just be "normal."
"I'm over not being able to go out and be normal for a second," says Kylie. "Life is life but sometimes I just want to be a kid. I just can't remember what it's like to go out and [have] nobody know who I am."
Though Khloe waxes nostalgic about "normal mall" food courts, saying she hasn't been to one for years, she tells Kylie matter-of-factly, "Trust me, you're going to hate it." Later on in the episode, the two, along with Kendall, even go to the lengths of having custom-made facial prosthetics put on so they can go on a Hollywood bus tour without being recognized. (They ultimately fail, but the whole charade serves as a salient reminder that when you're wealthy and privileged enough you can practically pay to be "normal.") 
In Sunday's episode, Kourtney says she doesn't think she's quite cut out for their family's level of mega-fame either, saying, "I can't handle it. I just don't give a shit."
A note for the Kardashians: If you're reading this, it's too late.
Read more: