Paul Ryan Blasts Donald Trump Over White Supremacist Star of David Tweet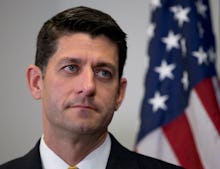 Speaker of the House Paul Ryan, one of the highest Republican officials in the country, has slammed the party's presumptive nominee Donald Trump for an anti-Semitic tweet sent out from the candidate's Twitter account last week. According to the speaker, it's "really really clear" Trump needs to clean up his act following the incident.
As originally reported by Mic's Anthony Smith, the image that appeared on Trump's Twitter page — prominently featuring an image of his Democratic counterpart Hillary Clinton overlaid with a Star of David with the words "Most Corrupt Candidate Ever" — had previously been posted to an online white supremacist forum, as well as another Twitter account that regularly posted openly racist memes. The image was later modified to include a fake "Fox News Poll" graphic at the bottom and remove a watermark linking back to the second Twitter account.
"Look, anti-Semitic images, they've got no place in a presidential campaign," Ryan told WTMJ radio host Charlie Sykes, BuzzFeed News reported. "Candidates should know that. The tweet's been deleted. I don't know what flunky put this up there. They've obviously got to fix that. We've got to get back to the issues that matter to the public."
"If I had to stop everything to comment on every ridiculous tweet sent out by this campaign, I wouldn't have time to do anything," Ryan continued. "I really believe he's got to clean up the way his new media works ... I think it's really really clear, the point is, I think he's got to clean this up. My understanding is this is done by staff, not by he himself. More importantly, they've got to clean this thing up."
The Trump campaign says the "flunky" to which Ryan referred is campaign social media director Dan Scavino, who issued a statement on Monday claiming the Star of David in question was a "sheriff's badge." The same explanation has been used by Trump himself, as well as former campaign director Corey Lewandowski, who now works for CNN.
However, the Trump team has yet to clarify where said image was originally discovered, or whether its staffers modified it to remove the watermark, and has not responded to any inquiries from Mic.
Ryan has fired shots across the real estate billionaire's bow before. In June, Ryan called Trump's insinuation the Mexican-American judge presiding over a class action fraud lawsuit against Trump University was biased against him "the textbook definition of a racist comment."
Read more: