These Millennials Are Reshaping the 2016 Democratic National Convention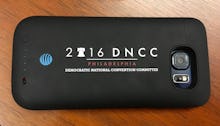 PHILADELPHIA — The big television networks are planning blanket coverage of the upcoming Democratic National Convention. But even if Kelli Klein weren't busy helping run the show, she wouldn't be sitting on the couch soaking that in.
"I don't have cable," Klein said.
Klein, 28, is one of legions of staffers working to transform the Wells Fargo Center — and the rest of Philadelphia — into a made-for-TV showplace for the presidential nomination of Hillary Clinton.
But Klein, the convention's digital director, and her diverse team of colleagues are focused on crafting an experience that works for a generation likely to see the late-July event on smaller screens.
"Our pictures [and] our videos aren't going to be people standing at a podium on stage. That's not the kind of content that we're interested in producing. We have a unique opportunity and challenge," Klein explained in a recent interview at convention headquarters on Market Street in Philly.
"We are trying to make it so wherever you are, if you wanted to tune in, you have the option, and I don't blame people for not necessarily wanting to watch speech after speech after speech but there's going to be some incredible people there. There's going to be incredible moments," she added.
The task: The mission in Philadelphia is to revamp the traditional convention presentation for an age where every smartphone has essentially become a television station — and engage young people whose media consumption habits vary widely even within the millennial demographic.
To complicate matters for the Democratic convention team, throw in some bad blood between supporters of Clinton and the diehard, disaffected followers of primary rival Bernie Sanders. And top that off with the need to make a play for a growing social stratum that's fed up with the country's dominant two-party system.
Klein and colleagues Olivia Chow and Heather Barmore say their broad-based digital approach to getting this elusive and information-oversaturated audience involved in Convention 2016 includes establishing a presence across platforms including Twitter, Instagram, Snapchat, Medium, Facebook, Periscope, YouTube, Storify and Spotify.
The latter includes selections from The Revivalists, Far East Movement, Of Monsters and Men, Alabama Shakes and Lauryn Hill, to name a few.
"Our communications team [is] very diverse... it's reflected in the music choices that are on the Spotify playlist, so there's literally a little bit of everything for everyone," said Chow, deputy director of convention digital communications.
Through the #DemsInPhilly hashtag, "We're really listening to what the social media chatter is. [Social media is] a great equalizer. Everyone has it. Everyone can have their own voice on it."
Road to Philly: The women on the Dems' digital team come from very different places. Their experiences flavor a convention that they, to an extent, are shaping in their own likeness and image.
Chow, for example, grew up in California translating for her Chinese immigrant parents, watching and helping as they adapted to a new life. That piqued the now-29-year-old's lasting interest in community support groups for newcomers to the U.S. and in civil rights organizations working in their defense.
Klein is a veteran of both political and private-sector jobs, having worked for New Blue Interactive and Mozilla and also for Obama for America and former Sen. Russ Feingold of Wisconsin. Growing up in the Badger State with a Muslim best friend, Klein said, taught her to speak out against discrimination and care about social issues from a young age.
Barmore, 32, the convention's deputy digital director, hails from New York's capital, Albany, where she grew up obsessively watching C-SPAN while the city played politics as a contact sport. She worked for John Kerry's 2004 presidential campaign, for the DNC and as a federal lobbyist. She has also blogged extensively, convinced that "behind every political cause, there's a story to tell."
City of sisterly affection: The joke around the convention office is that a straight white man is hard to find.
"Every facet of this endeavor looks like the American people, and that's how we're going to make it seem — and actually be — inclusive," Chow said during a chat in the headquarters' Obama conference room.
The convention's diversity extends to the top: The Rev. Leah Daughtry, an African-American pastor and political strategist, is making history by reprising her 2008 role as the event's CEO.
Daughtry herself, in a Facebook Live sitdown with Mic, nodded to the DNC's need for bridge-building as it seeks to unify voters behind Clinton to stop presumptive Republican nominee Donald Trump in November.
"We have a lot of folks with divergent opinions, from different places, with a lot of diversity. But we think diversity is our strength, not our problem. So, being able to reach a diversity of people via diversity of platform really mirrors that as a foundational goal for us," Daughtry said.
"This has been a long campaign season — but I lived through that in '08. Very similar, with [a] seemingly unknown or little-known candidate that comes from out of nowhere, energizes millions of people and gets them engaged in the political process," she said, drawing a parallel with then-Sen. Barack Obama's defeat of Clinton after a divisive primary.
This time, "We've had two great candidates ... and we're looking forward to the convention, where we'll all come together," Daughtry said. "Too much is at stake. We just can't have a President Trump."
From many, one? If Democrats aren't fully united behind Clinton as a candidate after her brawl with Sanders, the convention could foster — or force — some consensus on the party platform. That's another chance the Philadelphia team to engage the public via a spectrum of social media.
"If folks who aren't in the [convention] hall don't see themselves as part of the process, how can you expect them to turn out? How can you expect them to get excited? Which is why all of our efforts online have been so critical," said Jessica Torres, assistant convention press secretary.
"It matters that we're putting out bilingual content, [that] we talked on Medium about why Pride is so important to members of the [convention] staff personally," she said.
"If you have folks at this level who are in the weeds in the party constructing this moment where we nominate the next president of the United States, we have to talk about all the things that matter to us ... whether it's gun safety legislation in the platform or fighting for a fair and living minimum wage [and] equality at all levels."
No cakewalk: As Kelli Klein puts it, "We just need more leaders at every single level that look a little less white and a little less male."
If that's to be true at the very pinnacle of the nation's power structure, it means beating Trump, who is expected to accept the Republican nomination in Cleveland the week of July 18.
A few weeks out from the convention kickoff, Clinton leads Trump by less than 5% nationally, according to the RealClearPolitics polling average.
While she's also ahead in fundraising, Trump's June haul does show him getting traction among grassroots donors.
And in a campaign cycle this volatile, plenty of conventional-wisdom predictions have ended up with the shelf life of the average Snap.
The action in Philadelphia begins July 25.
Read more: