On Eid-al-Fitr, 10 Young Muslim Americans Share Why They Fearlessly Celebrated Ramadan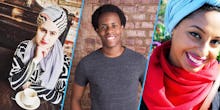 Eid-al-Fitr, or "the Festival of breaking the fast," that marks the end of Ramadan, is a time when Muslims should be reflecting upon God.
However, in addition to fasting from dawn to dusk in the sweltering summer heat, this past Ramadan has been extremely difficult for many of the 1.6 billion Muslims around the world. The senseless violence and terrorist attacks in Istanbul, Dhaka, Bangladesh, Baghdad, Medina, Saudi Arabia and Orlando, Florida, have shaken the very core of the Muslim community. While Muslim Americans are mourning the acts of terror, they also feel a heavy burden placed on their shoulders from the rampant anti-Muslim rhetoric from presumptive Republican presidential nominee Donald Trump and others and the increase in anti-Muslim violence across the United States.
In order to get a glimpse of their jihad — or struggle — Mic talked to 10 Muslim millennials from across the country and all walks of life about their worries and anxieties before Ramadan and then their reflections after the holy month of fasting. 
Here's what they had to say:
Raihan Faroqui, 28
Third-year medical student
Pre-Ramadan thoughts: "I wanted to make this month less about me and more about serving those around me. I wanted to make sure that I wasn't just doing it for the likes, retweets and views on social media. I wanted to make sure my intentions are pure. I also wanted to do more than just sit in a room and read ayahs [verses] from the Quran. I wanted to do something about police brutality against black teens, sexual violence against women and Wall Street corruption. I wanted to do more. I wanted to extend #FeelTheBern to a social justice fast."
Agnieszka K, 26
Special Education Elementary Teacher, doctoral student
Pre-Ramadan thoughts: "This was the first year I decided to intentionally avoid mainstream Muslim spaces for Ramadan. Especially after the Orlando attack, I did not feel that I had the emotional capacity to be around any homophobia in the mosque or community spaces. In the past, I have had the most rewarding Ramadan memories with fellow queer Muslims in third spaces such as people's homes and intentionally queer retreats/meetings. I cannot fast due to health reasons so my main focus would be on my spirituality and relationship to the Divine, and to cut all ties with toxic people and organizations."
Mamoudou N'Diaye, 24
Comedian
Pre-Ramadan Thoughts: "Wait what do you mean next week? Hold on, like Monday? But, but... ok ok. Relax, Mamoudou. Start weaning yourself off of food now and remember this isn't about how much you love gummy bears. This is a fast to bring you closer to Allah and to reflect on the privileges you have that many others don't. 
But like for real?? Monday? Ok. You'll be fine. You could lose some weight, Mamoudou, let's be honest here. Remember: close to Allah, privileges, educate your peers on the beauty of the Muslim religion by embodying the antithesis of how the media portrays Muslims. 
Wait, TOMORROW IS MONDAY??? No pressure."
Ramadan was a time to clear my head and sit down and get closer with not only God, but my family, and even myself. After some thought during some solo iftars, I have recommitted myself to using personal experiences to inform audiences and friends about Islam and combatting Islamophobia one conversation, one show, one person at a time. I won't let the narrative of radical Islam and ISIS be the story told about me or my brothers and sisters."
Sarah Ahmed, 26
Patient Advocate, master of public health candidate
Pre-Ramadan Thoughts: "I excitedly looked forward to Ramadan, mostly because I always feel a sense of renewal. I renewed my commitment: to self-care, to the most compassionate, most merciful creator, to reading more, to my relationship with my faith, with loved ones and with food. I was especially inspired by a world that mourned Muhammad Ali's legacy of standing up for justice and blackness and Muslimness. I hoped to have an epiphany on what I'm doing with my career and my organizing/activism."
Ramadan Reflections: "I've felt so broken. I've fasted since I was 8 and this Ramadan has been my hardest. It's been very difficult to navigate mourning, grief and despair; the world is just breaking my heart. How can a Jamaican, black, Pakistani, brown, first generation immigrant, three language speaker, femme, visible hijabi, woman, feel safe, survive or thrive with rampant xenophobic violence? The struggle for justice blossoms from immense love; love for dignity, equity and access in the truest sense. The love in activist spaces has filled me; my heart could burst, reminding me to dream wildly and boldly. Working out with my trainer while fasting has reminded me how strong, emotionally and physically, I am. It has been incredibly healing. Actually, I guess I am more grounded and renewed than I thought."
Hishaam Siddiqi, 25
Marketing & Business Development Coordinator
Pre-Ramadan thoughts: "Before this Ramadan began, my level of faith had been at an all-time low for various reasons. Part of it included feeling judged and ostracized by other Muslims, and I had begun questioning my commitment to religion which led to feelings of anxiety and shame. I decided to enter this Ramadan with a focus on spirituality and hoped that a cleansed perspective would lift my spirits. I told myself that I would dedicate these 30 days to pure thoughts and worship without shaming or judging myself and see how I felt at the end of the month. I told myself I would renew my intentions about why I was fasting and what this Ramadan meant for me."
Ramadan reflections: "Halfway into Ramadan, I came to realize why it is I loved this time of year so much: Having an entire month dedicated to reflecting on your spirituality teaches you a lot about yourself. Additionally, the communal spirit of Ramadan reminded me that many Muslims have highs and lows with their faith — and that I wasn't alone. 
Seeing my fellow Muslims in various countries attacked and killed during such a sacred time broke my heart, and increased the level of respect I have for my fellow Ummah [Muslim community] holding steadfast to their faith in times of great adversity. As situations for Muslims continue to worsen even here in the United States, I draw on the courage of my fellow Muslims everywhere and am reminded of a verse from the Quran:
'And if you are patient and fear Allah, their plot will not harm you at all. Indeed, Allah is encompassing of what they do.' (Quran 3:120)"
Jenan Matari, 25
Pre-Ramadan thoughts: "I was actually dreading Ramadan this year. In addition to the blazing summer heat, it was also my first year getting back into the swing of things after taking a year off due to falling ill during Ramadan two years ago and not being able to fast the following year. I was preparing myself for some serious struggle. But I was determined to do as best as possible. I went into this Ramadan more spiritually in tune and looking to get more out of this month other than just maybe some weight loss and appetite control."
Osama Shabaik, 27
Attorney/Restaurateur
Pre-Ramadan thoughts: "At its essence, Ramadan is a time of self-reflection and spiritual renewal. In our current political climate, it's easy to get depressed with everything we see in the news. Ramadan helps me refocus myself and channel that spiritual renewal into positive activism."
Laila Alawa, 24
Founder & CEO of the Tempest
Pre-Ramadan thoughts: "I'll be frank with you: I didn't expect this month to be different from Ramadan in past years. Sure, we were facing long days of fasting given the timing of the month, but I was living and working more than a thousand miles from my family, so I knew that it would be a month that I could craft to fit my expectations, needs and spiritual goals. It crept up on me, the days leading up to it as much of a blur as the rest of 2016 has been — and suddenly, the burst of social media posts wishing one another a wonderful Ramadan Mubarak were filling my newsfeed, and I knew the month was about to start."
Ramadan reflections: "This Ramadan was the most difficult holy month I have ever experienced. The publication of my Department of Homeland Security involvement in countering violent extremism at the start of the second week of Ramadan exploded into an international smear campaign, with thousands of bigoted, right-wing influencers, politicians and individuals attacking me in every way possible online. It was the first Ramadan I called the police in fear for my life, the first Ramadan I felt completely alone and alienated.
This was also the first Ramadan in which I was reminded why it was so incredibly important to do the work that I'm doing — even if I anger bigots as a result. I learned firsthand what it means to stand amidst a firestorm of hatred, and what it truly means to keep your voice — and your morals — true, no matter the circumstances. I gained a closeness to God on a level I'd never experienced, and I know now that I can make it through anything online — powerful knowledge in the face of working to shift the media landscape through my work at the Tempest."
Ahmed Ayoub, 23
Research Assistant
Pre-Ramadan thoughts: "I had been struggling with my faith and my identity, more so than any other time in my life. For a variety of reasons, I was dealing with depression. Identity politics, family pressures, the everyday madness of the world — they all played a factor in my lack of faith in Allah. I even ended up writing a blog post questioning His mercy. I felt a little uncomfortable afterwards, with Ramadan around the corner. Rather than let this Ramadan pass as any other month like the past few years before, I forced myself to suspend my cynicism and develop some kind of relationship with Allah. I had hoped that going into and leaving Ramadan, I would feel more whole, in mind and spirit."
Ramadan reflection: "It is an interesting paradox, when I look back at it. On one hand, I felt that Ramadan this year was the most bearable; I felt slightly more at peace, more humbled. At the same time, I've felt anger, as I'm sure many of us have, at the increasing wave of anti-Muslim violence, whether from members within our own society here, or abroad at the hands of the false shepherds known as ISIS/ISIL/IS. I almost found myself slipping into the mentality I had before Ramadan, where I questioned why Allah would allow so much to happen and not intervene, not bring forth justice upon those who begged for it. Sometimes, one has to simply let go and trust in Allah, I suppose — that's a fact many Muslim-born people take for granted without actually appreciating. I still have my own jihad [struggle] to contend with, but I think this Ramadan, for the first time ever, I am beginning to understand that Allah does work in mysterious ways, and that He has a plan for me, so long as I make the effort to connect with him."
Hallima Docmanov, 21
Student Activist
Pre-Ramadan thoughts: "Ramadan has been quite difficult since I left my conservative parents' home to start a new life at 19. I've felt a disconnection between the Muslim community and me for quite some time, partially because of my identity as not just queer, but being a black non-binary person. I wanted to be alone this Ramadan and instead of taking the tradition out of practice, I have forged my own ways of practicing my faith. I planned to be more mindful of others and myself. I plan to enjoy life just a little more because I have one life that my creator has given me and I deserve to enjoy the ride, even though the intersections of my identity and economic class doesn't allow me to. I plan to love more. I want to find peace with my loneliness."
Ramadan reflections: "Pride was the same time as Ramadan and I had spent the night before with my close friends. It was so much fun, but my heart hurt when I heard about the Orlando shooting that same weekend. Those people where exactly like my friends and I. They were queer people of color dancing through the night with joy and pride.
This has led to me wanting a community — especially a queer Muslim community. I had attended queer-friendly iftars this Ramadan. I think it's what I needed to heal from the shock. The ability to talk about it, our fears and uplift one another made it easier. Even when we aren't talking about Orlando, being around other queer people made it a bit easier to exist. I think this Ramadan allowed me to find community like I was never able to. It had allowed me to heal through community. I had planned to be alone, but I had found God through others and through the healing power of community. Even through tragedies I had found that God allows us to see peace. I have learned this lesson for every struggle I will come to endure. As the tattoo on my arm says: 'Verily, after hardship comes ease.' (Quran 94:6)"
Read More: