The iPhone 8 Could be All Glass — Is That a Recipe for Disaster?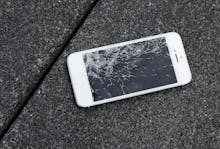 Apple has been toying around with the idea of an all-glass iDevice for a while, as is evident in two separate patents the company holds. 
An all-glass bod would certainly be a flashy contrast to the increasingly homogenous look of the iPhone lineup. It could also be a damn disaster. 
There's a reason our phones, tablets, laptops, TVs, smartwatches, etc. aren't housed purely in glass — it's breakable AF. 
From the iPhone's introduction in 2007 through late 2014, Americans spent over $23.5 billion replacing broken smartphones, according to SquareTrade. And a study in 2013 found that 23% of iPhone screens are cracked, PhoneArena reported. Enjoy scrolling through tweets 17 times a day via a spiderweb screen.
So we already know Americans have a habit of cracking their phone screens — seems like a bad idea then to wrap the whole damn phone in precious glass, right?
Well — maybe not. Apple acknowledges that the material used to make the phone should be selected based on strength, density and strength-to-weight ratio, among other factors, according to the patent. 
It doesn't specify in the patent exactly what type of glass this Cinderella slipper of smartphones would be manufactured with, but it does note that it would use "chemically strengthened glass," which is what Apple currently uses in the Apple Watch and iPhone 6s. 
The patent also notes that this chemically strengthened glass can be coated with an "oleophobic coating" to minimize fingerprints and smudges as well as an anti-reflective coating for less glare. The patent notes that this chemically strengthened glass is also scratch resistant. 
So is an all-glass iPhone a bad idea? If you care about aesthetics above all, cradle the glassy rectangle in your hands like a baby. 
But if you care about durability... lol. While the chemically strengthened glass may not be any more destructible than the glass in the current iPhone models, it doesn't have any metal buffers. And putting a drop-proof case on your transparent phone kind of defeats the purpose of buying an all-glass phone to begin with.  
Read more: