Are Kylie Jenner and Tyga Back Together? We Conducted a Thorough Investigation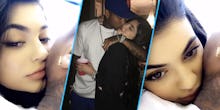 For those keeping track of the saga that is Kylie Jenner's ongoing (and sometimes off-going) relationship with Tyga, it would seem that, as of the 240th anniversary of the United States of America, the pair is officially back on.
Jenner confirmed as much with a Fourth of July Snapchat video Monday, in which she gazed at the lens of her smartphone camera from the tranquility of Tyga's tattooed necknook.
Jenner also utilized Instagram to share a photo of herself receiving a smooch from Tyga.
You know what? Good for them. You know what else? It is very hard to keep up with these two! We're over two years deep in the Kyga journey at this point, and the past few months have been the bumpiest yet.
Below, just a few highlights:
March 21 — The butt grab
Things between Jenner and Tyga seemed to be on solid ground back in March, when Jenner shared a snap of Tyga groping her butt in the club.
May 12 — The breakup
When May rolled around, they had reportedly broken up — for the second time, according to TMZ reports — and TMZ was all, "This time there's no going back."
June 17 — Tyga gives an interview about the breakup to BigBoyTV.
Tyga was filmed talking about how he felt "overshadowed" by Jenner's success when he was in their relationship. 
June 23 — Jenner has a rain-soaked make-out sesh with rapper PartyNextDoor. 
Kylie (and her lip kits) popped up in a PartyNextDoor music video, and their onscreen make-out session led many to assume that those two were a thing.
July 31 — Plot twist!
Just when you might have thought things were officially over, Tyga's hand made a surprise appearance in a Kylie Snap!
And now we have this cute lil' Fourth of July development.
It's all either proof that Kyga is a volatile AF union, or that Kylie Jenner is just very good at using Snapchat to keep followers perpetually thirsty for more information on her relationship status.
"It's all part of a carefully manipulated image: the rising cosmetics magnate with equally engaging ongoing personal drama," wrote Lauren Le Vine in Vanity Fair after the aforementioned Tyga-hand Snap. "It helps Kylie remain accessible to her peer group while she collects that lip-kit money and buys multi-million dollar houses. Basically, it's 18-year-old King Kylie's world, and we're just following along on Snapchat."
Read more: