Naked Gay Man Arrested at Jacob Riis Beach, New York City's Queer Haven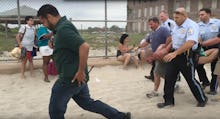 LGBTQ New Yorkers celebrating July 4 at Jacob Riis Beach — long a safe haven for the city's LGBTQ community — witnessed U.S. Park Police carry a naked gay man by his towel as he screamed "Help me!" on Monday evening. 
In a video obtained by Mic, a group of police officers carried Brooklyn-based photographer Krys Fox off the beach, still naked, with only a towel to cover his genitals. Fox's photography includes several snaps of men by the same chain link fence where he was arrested. Fox also told Mic that the beach was the site where he got married. 
"I got married in 2011 at the same spot that it happened," Fox said to Mic in a phone interview. "And I will never be able to be there again without remembering what they did to me."
According to Sgt. David Somma of the U.S. Park Police, arresting officers cited Fox for disorderly conduct and public nudity. 
"They asked him politely several times to walk off the beach," Somma said in a phone interview. According to Somma, when Fox did not walk off the beach, officers carried him to a police car on the boardwalk.  
According to eyewitness Jax Jackson, prior to the events in the video, police brought Fox to his knees, put his face in the sand and handcuffed him. 
A photo posted to Facebook by artist and activist Rio Sofia corroborates Jackson's account. In the comments under the photo, several people helped to fill out details of the story. 
According to one commenter, Fox was taking more photos for his Instagram when his towel slipped off. 
According to another commenter, police did not arrest him for nudity while he was naked on Riis Beach several weeks ago. 
"I wasn't even given a ticket, but the officer did take my information," the commenter wrote. 
According to Jackson, 11 officers total — some in plainclothes — participated in Fox's arrest.
Jackson said some members of the crowd tried to shout "He just dropped his towel for a minute!" to the officers, and the officers in turn warned beachgoers that all below-the-waist nudity is illegal on the beach. 
According to Somma, police increased their presence on the beach because it was a holiday and because there was a July 4 bazaar happening nearby. However, several queer beachgoers who spoke to Mic said they were not pleased with the police patrolling the shores of Riis. 
"[Police presence] has increased in intensity every year that I've been going to Riis," said Jackson, who has been going to Riis for 6 years. Jackson lamented the escalated presence because, "[Riis] is one of the only beaches that I feel safe on as a trans person." 
Charlie Solidum, a trans New Yorker and frequent Riis-goer, called the event "terrifying" and is unsettled by increased police presence, which includes police mounted on horses, on the beach. 
"The police are definitely more visible now," Solidum said. "I definitely view Riis to be a safe haven. It's a place that people go to relax and be themselves, I don't know of any beach near here that feels the same as Riis." 
As for Fox, who is resting after Monday's events, Riis is no longer the same safe space that it once was to him. 
"I'm in shock," Fox said. "I'm hurt and feel terrified."
Read more: