'Unbreakable Kimmy Schmidt' Star Ellie Kemper Slams Strangers Who Touch Her Pregnant Belly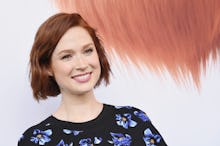 On Sunday, Unbreakable Kimmy Schmidt's Ellie Kemper reminded everyone that basic etiquette and human decency still applies, even for pregnant women.
In an interview with Today's Willie Geist, the actress — who announced in April she was expecting a child — talked about the singular joys, fears and frustrations of being a parent-to-be. Among these, she said, is one total violation of personal space.
"I don't know what goes through a person's mind — a stranger's mind no less — when they think, 'Oh yes, your stomach is something that now belongs to me and I can touch it,'" she told Geist, telling him she's just recently become the victim of "belly-touchers" since she's started to show.
"It's actually crazy," Kemper continued. "In a way I think it's a nice reminder of humanity and then I go quickly back to the idea that you wouldn't do this if I weren't pregnant."
The actress said that even before her pregnancy was apparent, her friends would touch her stomach. "I'm not a very touchy-feely, comfortable person so if someone touches me I'm like, 'Ah!' Personal space violation!'" she said.
And Kemper joked that in the early of stages of pregnancy, what friends, and unfortunately sometimes strangers, are feeling is her "digestion," since the baby is still just an embryo.
"It's just a pea!" said Kemper. "Nothing to fawn over."
Watch the full segment below:
Read more: