Colton Haynes Capitalizes on His Own Thirst Trappery by Releasing Daddy-Themed Merchandise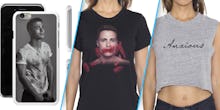 Fresh off of last week's news that Colton Haynes would be launching his own brand, comes yet another surprise with today's unexpected launch of ColtonHaynes.com. 
The official site of the the model-turned-actor features just-released "super limited-edition" Haynes-themed swag, from t-shirts to hats to cell phone cases.
Haynes announced the news in a video released on the site.
"I don't know why I'm juggling the lemons, but when life gives you lemons you make a website and that is Colton Haynes.com," he jokes.
In addition to merch emblazoned with Haynes' photogenic mug, comes men's and women's t-shirts and hats strewn with the word "DADDY," a term frequently used in the comment section on any given Haynes' Instagram, a breeding ground of such thirst traps.
"Aesthetic: Colton Haynes selling merchandise with the word "DADDY" on them because people call him that on Twitter," wrote one Twitter user.
"Fans called Colton Haynes 'Daddy' on the internet so he's [monopolizing] on it in his merch," another observed.
Twitter seemed to divide on the daddy shirt/hat.
Some immediately took to scooping it up...
Others, like Huffington Post Queer Voices Executive Editor Noah Michelson, chose to yawn at the release, writing "you, sir, are no daddy and you're apparently not even the slightest bit creative."
That sentiment was echoed by others in the queer community.
In addition to the Daddy-themed merch, Haynes released a t-shirt emblazoned with the word "anxious," likely a nod to his 15+ year battle with anxiety.
In December 2015, Haynes tweeted "For those of you who are suffering with intense anxiety... ur not alone. It's been a constant struggle for me since 5th grade. It's a battle."
Adding: "Anxiety had put me in the hospital a countless amount of times. Whether it be fainting, hyperventilating, or seizures...I've been through it."
Little more is known as to whether we'll see additional items added to the collection (Haynes' note to fan promises additional blog posts, but no mention of additional merch), but one thing is for certain: daddy's kids are are willing to put their money where their thirst is.