Boozy Dippin' Dots Are the Best Way to Get Drunk as an Adult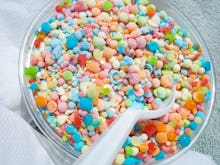 Adulthood doesn't have to mean you giving up your favorite childhood snacks. All it takes to make them more grownup-appropriate is a bit of booze — just look at these Capri Suns and wine slushes. 
This holds true for Dippin' Dots — those spherical little ice cream dots that invaded malls across America in the '90s — too. While the dots never quite turned out to be the "ice cream of the future," one genius bartender has figured out a way to use them to get, well, turnt. 
The boozy Dippin' Dots were invented by Brennan Adams, the beverage manager for A Bar in Washington, D.C, Brit + Co noted. The treat was originally called Drinkin' Dots, but after Adams was threatened with a lawsuit, he renamed it to the much more generic (and way less fun) "Cryo-Spheres."
The boozy dots are actually quite easy to make — as long as you have access to some liquid nitrogen. All it requires is whipping up a boozy ice cream base (literally melted ice cream plus your booze of choice, the one pictured below is made from dark chocolate and tequila), pouring it into a bottle and squeezing out small drops into the liquid nitrogen to freeze. Scoop up the drops and pour it into a low ball or a martini glass and voila — the best parts of childhood and adulthood all in one glass. 
Check out the easy steps below: 
1) Pick up filled squeeze bottle
2) Pour drops into liquid nitrogen
3) Scoop out dots when frozen
4) Voila, boozy Dippin' Dots
Read More: