Emma Straub's 'Modern Lovers' Will Make You Fall in Love With Love Again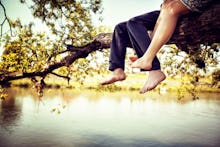 As one of ClickHole's extremely accurate headlines so aptly puts it, "It's Summer and If You're Not Hopelessly in Love, You Might as Well Be Dead." Emma Straub's Modern Lovers reminds you how true that statement is without making you want to jump off a cliff.
Modern Lovers follows three love stories as their ups and downs stretch across the span of a hot, sticky Brooklyn summer. Set deep in Brooklyn's Ditmas Park neighborhood, Straub takes a look at what summer love looks like when you've been married for decades and your marriage is either about to fall apart or last forever, and when you're falling in love for the very first time.
Elizabeth, Andrew and Zoe, former college bandmates and life-long friends, live down the street from each other. Elizabeth and Andrew are experiencing mid-marriage bumps, as Andrew goes through his own mid-life crisis. He buys into a semi-cultlike yoga studio that also sells illegal kombucha, after it pops up in his now trendy neighborhood. Their son Harry doesn't seem to notice as he studies for the upcoming SAT. Zoe and her wife Jane are working through their own mid-marriage crisis as their daughter Ruby graduates from high school with no tangible prospects for her immediate future (she's not going to college).
As both sets of parents seem completely wrapped up in their own romantic troubles, their children, Ruby and Harry find themselves alone — and then together —  in Brooklyn, while their rich, private school friends are summering abroad on a yacht or in a villa. Ruby's hardcore, I-don't-give-a-fuck attitude doesn't seem like it'd be a great fit for Harry's teacher's- and parent's- pet demeanor, but he also might just be what she needs while she's wasting time hostessing at her parents' restaurant and studying for the SAT (again).
As old ghosts come out of the woodwork of Elizabeth and Andrew's past, issues in their current life that they had been avoiding come to light. While Zoe and Jane seem to be in a rut, they're reminded that when life throws you a curveball, the person you turn to is normally the person you'll always want to turn to. The characters are easy to fall in love with. Just as you're rooting for them to figure their shit out, you're falling in love with summertime and the magical world it creates for this one special emotion to bubble up and put everyone under its spell.
Straub reminds her readers that long loves, the ones that really matter, are imperfect, but that doesn't mean they have to be broken.
There's something about this season that makes everything seem like it's going to work out, even when it's all falling apart. Straub captures the limbo that summer creates in her book. For her characters, they're suspended in time. As the adults search for their youth and the lost magic from the beginning of romances that led to marriages, the younger characters embody those moments that their parents are longing for. All of the characters seem stuck. Stuck in heat, in between their problems, in between movement forward or backward. But that's what summer is for: sitting back and being stuck, while trying to figure stuff out.
Straub reminds her readers that long loves, the ones that really matter, are imperfect, but that doesn't mean they have to be broken. She also reinforces the reality that temporary love — youthful love — is sometimes the most beautiful kind.
If you're looking for something to keep you company on your beach vacation, this book is the definition of a summer read. It is a quintessential guilty pleasure without being cheesy, complete with predictable drama and a tidy conclusion. It doesn't paint a rosy, dreamy picture of summer love, but it does reminds one of the good and bad of falling into it, at any age.
Read more: