2 Tourists Died While Trying to Take Selfies in Peru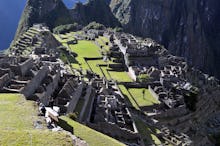 Continuing the growing trend of people dying when trying to snap the perfect selfie, two tourists reportedly both died last week while attempting to pose for photos in Peru.
The first was 28-year-old South Korean Kim Jongyeob, who was trying to take a selfie when he slipped and fell 1,600 feet at the Gocta waterfall, the Independent reported. 
The second was 51-year-old German tourist Oliver Park, who fell off an approximately 130-foot ledge at Machu Picchu when trying to take a mid-jump photo, according to the Washington Post.
On Thursday, rescuers recovered Park's body. It took them about an hour and a half to even reach the ravine that he had fallen into, the Post reported, citing TV station Canal N. According to officials, Park disregarded safety signs and "went into a restricted area close to the edge of a cliff," the BBC reported.
In this year alone, there have been over 20 selfie-related deaths worldwide, according to the Independent, especially where scenic locations can easily distract the poser. In fact, the most dangerous spots to take a selfie are from high places and in water, CNN reported, citing economics website Priceonomics. In 2015, a man attempting to take a selfie ended up falling down the stairs at the Taj Mahal, according to BBC Hindi.
So the next time you're on vacation and feel the urge to capture the moment, just remember "to be careful about taking shortcuts when trying to determine what is and isn't threatening," as risk management professional Morgan O'Rourke told CNN. 
Read more: