Woman's Racist Encounter While Walking Her Dog in Miami Goes Viral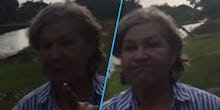 A woman caught on camera a seemingly racist encounter she had while walking her dog in Miami July 3, and the video has gone viral. 
Rayne Burse was walking her dog, Mojito, in Miami last week when a stranger started following her. Burse tried to walk away, but, as she told Mic on Tuesday, "She kept following me talking crazy." So Burse decided to record what was happening. "That's when I decided that I shouldn't lead this lady back to my house and instead record her actions in hopes that she'll retreat back to hers," she said.
"I had saw her coming out of the corner of my eye, let her get a a bit closer before very politely saying 'I'm sorry, Ma'am, am I trespassing? Would you like me to leave?' To which she responded with something like 'you know what, let me tell you something, you're from South Miami,'" Burse said. Burse happens to be a Las Vegas native who only recently moved to Miami.
In Burse's video, which has been making the rounds on social media, the other woman can clearly be heard repeating "I am going to report you," and "You're in it." The encounter quickly turned physical, and when the woman appeared to reach out to grab Burse, she pushed back. 
The woman who threatened and followed Burse was arrested at the scene. As Burse explained, the entire situation was pretty scary. "I'm really not in the business of hitting old women, or disrespecting my elders. I tried really hard to deescalate the situation before I even decided to record, and she just wasn't having it. I felt threatened, and I'm not sure if you can hear in the second video, but I was in the middle of a panic attack."
The details of the situation are still fuzzy, and the other woman's motives for following Burse aren't clear. But the language she used, and the warnings that she would "report" Burse, seemed to many on social media to be overtly racist — and Burse's warning to her dog to get out of the way (Move, Mojito!) popped up as a viral hashtag on Tuesday.
The South Miami Police have not yet responded to Mic's request for comment.
Read more: