Video Captures Moment Baton Rouge Police Shot Alton Sterling on the Ground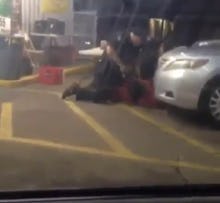 Alton Sterling, a black, 37-year-old resident of Baton Rouge, Louisiana, died Tuesday during an encounter with local police officers outside a Triple S Food Mart in East Baton Rouge Parish, according to television station WOIO. Sterling was killed after one of two officers involved shot him multiple times during a confrontation.
Witness Abdul Muflahi, who owns the supermarket in question, said an escalating conflict resulted in one officer using a stun gun on Sterling, and the other tackling him, according to WAFB. While Sterling was on the ground, the first officer drew his sidearm and shot him, but the police later withdrew a gun from Sterling's pocket, Muflahi said.
Baton Rouge law enforcement officials said an investigation was underway and provided few details about the incident on Tuesday, but an apparent video of the shooting made its way online regardless.
The graphic video of the incident, acquired by WBRZ and Louisiana news site the Advocate, shows Sterling was pinned by both officers at the time one drew his gun. Sterling appeared to scream "Please!" right before the officer discharged his weapon. The video pans away before audible shots are fired.
(Editor's note: This video contains graphic footage.)
According to the timeline provided by the Advocate, the officers told Sterling to "get on the ground" twice before the encounter turned physical. Later, while the two officers are dragging him to the ground, one shouts, "He's got a gun! Gun!" One can be heard shouting, "You fucking move, I swear to God."
Advocate reporter Bryn Stole posted footage of crowds of protesters surrounding the scene of the shooting Tuesday evening, shutting down North Foster Drive and saying they will protest at Baton Rouge City Hall in the morning.
According to WBRZ, the two officers are on administrative leave while the investigation continues. Sterling's sister, Mignon Chambers, told WBRZ he is a father of five and often stood outside the Triple S Food Mart location to sell CDs.
Read more: