The Killing of Alton Sterling in Baton Rouge by Police Has Sparked Outrage on Social Media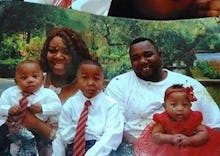 Graphic footage of the death of 37-year-old black man Alton Sterling in Baton Rouge, Louisiana, during an encounter with the local police Tuesday morning has made the waves on social media, with users overwhelmingly expressing their disgust with the events.
Filmed outside of a convenience store, the video, shot by witness and store owner Abdul Muflahi, shows police tackling Sterling to the ground, before one officer draws his sidearm and shoots Sterling. Though the video pans away before the shot is fired, it appears that Sterling shouts "Please!" before the shot goes off. 
While officers said they later removed a gun from Sterling's pocket, Muflahi told the New York Daily News he never saw a gun in Sterling's hand, nor did Sterling reach for it at any point.
(Editor's note: The following video contains graphic footage. View with discretion.)
As protesters started to form Tuesday evening at Baton Rouge City Hall, the Twitterverse reacted to the news with fervor, including several celebrities and activists, many of whom expressed frustration by the death of another black man at the hands of police.  
Read more: