Alton Sterling Is the 114th Known Black Man Killed by Police in the US in 2016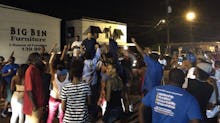 The streets of Baton Rouge, Louisiana, were lined with protesters early Wednesday morning, one day after 37-year-old resident Alton Sterling, a black man, was shot and killed by police. Witness Abdul Muflahi, whose video footage of the incident has gone viral, told WAFB Sterling was killed following a scuffle with police during which they used a stun gun and tackled him to the ground.
Sterling's death, which has sparked an outcry throughout the city and online, marks the 114th black man killed by police in the 186 days of 2016, according to a Washington Post Pulitzer Prize-winning investigation. A video of the incident obtained by the Advocate shows two officers holding Sterling down as he pleads with them right before the gun goes off. Officers can be heard shouting, "He's got a gun! Gun!" and "You fucking move, I swear to God."
(Editor's note: The following video contains graphic footage. View with discretion.)
Muflahi, who owned the convenience store outside of which the shooting occurred, told the Advocate that officers removed a gun from the dead man's pocket, but that at no point during the incident did Sterling have the gun in his hand, nor was his hand near his pocket during the struggle. 
"They were really aggressive with him from the start," Muflahi said of the responding officers. Sterling's sister Mignon Chambers told WBRZ her brother, a father of five, would normally sell CDs outside of Muflahi's Triple S Food Mart store. 
According to Advocate's Bryn Stole, who was on the scene of the protests, protesters chanted "black lives matter" and called on passers-by to converge at 8 a.m. local time Wednesday outside Baton Rouge City Hall.
Read more: