Hillary Clinton Wants to Give Graduates a 3-Month Deferral for Repaying Student Loans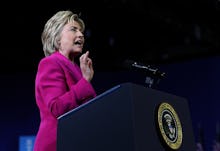 Presumptive Democratic presidential nominee Hillary Clinton will announce Wednesday a plan to allow students to defer repayment of their federal student loans for three months, according the Washington Post.
The Post reported Clinton's proposal is part of a bigger education reform package that includes allowing borrowers to pay back a proportion of their federal loan debt, as well as forgiving debt for teachers and other public servants after 10 years.
The former secretary of state will lay out the proposal during a speech in Atlantic City, New Jersey.
She'll speak there Wednesday afternoon amid a backdrop of Donald Trump's failed casinos that pepper the struggling city's boardwalk — an image she'll use to paint Trump as a businessman who ripped off workers to line his own pockets.
The proposal: Student debt has been a major issue in the Democratic primary.
Bernie Sanders made free public college a pillar of his campaign — a proposal that helped the Vermont senator win massive support among younger voters.
Clinton proposed debt-free public college, as well as focused on plans to help those already reeling from student loans to ease their debt burdens.
Last week, Clinton also released a plan to allow young entrepreneurs who hope to start businesses the chance to defer their loans in order to get businesses off the ground and help create jobs.
Read more: