Alton Sterling Baton Rouge Killing Update: Congressman Calls on DOJ for Investigation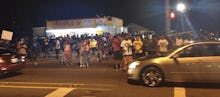 Louisiana congressman Cedric Richmond, who covers the second district in Louisiana, called on the Department of Justice to investigate the death of 37-year-old area man Alton Sterling, who was shot and killed by officers outside of a food mart early Tuesday morning. 
A video showing Sterling pinned to the ground by multiple officers shouting "Please!" in the moments before one unloads their weapon on him has exploded online, causing protestors to line the city streets demanding justice. 
"The video footage released today of the shooting of Alton Sterling by officers of the Baton Rouge Police Department was deeply troubling and has understandably evoked strong emotion and anger in our community," Rep. Richmond said in a statement shared across social media. "There are a number of unanswered questions surrounding Mr. Sterling's death. Including questions about the initial calls for police presence, the level of force used by officers, the verbal and physical altercation, and the response of the officers after he was shot. I call on the U.S. Department of Justice to conduct a full and transparent investigation into this incident. The cause of justice requires state and local law enforcement to join in this request as soon as possible."
Read the full statement below.
Louisiana's the Advocate reporter Bryn Stole was on the scene Tuesday night, sharing images of protestors calling on passerby to head to the Baton Rouge City Hall Wednesday at 8 a.m.
Read more: