Frank Ocean's New Calvin Klein Ad Only Serves to Remind Us How Much We Need His New Album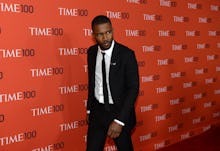 I Frank Ocean in my Calvins — do we take that to mean "I procrastinate, productively, in my Calvins"? The Grammy-winning R&B singer would seem to have put off work on his second album yet again, according to a Tuesday Snapchat announcing not the arrival of Boys Don't Cry, but Ocean's involvement in the Calvin Klein Fall 2016 campaign. 
In what is perhaps a notable departure from campaigns past, Ocean appears mostly clothed, barefoot in a suit, with only a couple shots of his underwear. In the ad, Ocean speaks to the integral role music plays in his life.
"If you start a habit and you keep it up for four or five weeks and then you stop, you feel like you're missing something in your day," his voice says in the video. "That's what music is for me. It feels like a necessary act." 
The statement might raise eyebrows amongst those who have eagerly anticipated the arrival of his sophomore album for over a year now. Ocean has for months existed mostly outside the scope of the public eye, increasingly coming back into focus to share his thoughts on the Orlando shooting; tease audiences at Coachella; console Calvin Harris, but not to release new music. Now, here he is in the latest Calvin Klein campaign. 
Some fans are wondering how he finds all this time to do all these non-musical things while apparently being too busy to drop an album. Others are interpreting the campaign as a sign that Boys Don't Cry will arrive imminently. 
While previous Calvin Klein campaigns — most recently, the innuendo-heavy Spring 2016 campaign, in which Kendall Jenner memorably stuck her hand in her underwear and "pulsed" in her Calvins — have been heavy on the nudity and sexual suggestion, the Fall 2016 campaign takes a decidedly different tack. 
Other models include Margot Robbie (who calls love "awfully painful" and "terrifying"); Kate Moss (who talks heartbreak and the material utility of romantic love); Vogue creative-director-at-large Grace Coddington (who discusses the sexiness of being buttoned up); Bella Hadid (who has a bad temper but flirts well); and Young Thug (who talks gender). 
Watch the full announcement on Calvin Klein's Snapchat.
Read more: