Oscar Pistorius, Olympic Sprinter, Gets 6-Year Prison Sentence for Killing Reeva Steenkamp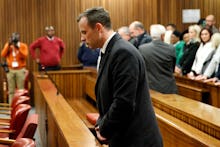 South African Olympic sprinter Oscar Pistorius was sentenced Wednesday to six years in prison for the 2013 murder of girlfriend Reeva Steenkamp.
The verdict comes after the high court reversed Pistorius' five-year manslaughter sentence to murder in December. Pistorius shot Steenkamp, a South African model, four times through his bathroom door on Valentine's Day 2013. 
The 29-year-old Olympian and Paralympian admitted to shooting Steenkamp, but claimed he had believed she was an intruder hiding in his bathroom. The judge decided it was a deliberate act of murder that followed an argument.
Many believe Pistorius' sentence is too lenient for murder. "The judge was sympathetic and empathetic to Pistorius," a legal expert told BBC. "It was clear in the tone of her entire judgment."
Others said his wealth and celebrity status influenced the verdict. 
But the judge, Thokozile Masipa, stood firm in her verdict. "Public opinion may be loud and persistent but it can play no role in the decision of this court," Masipa said, according to the BBC.
Pistorius' brother, Carl Pistorius, weighed in on Twitter. "The record has been set straight, and justice done," he said. "The truth will always prevail. #justice."
Pistorius has already served one year in jail for his manslaughter conviction and must serve at least half his new six-year sentence before he will be eligible for parole.