Judge Who Told Rape Victim "Why Couldn't You Just Keep Your Knees Together?" Faces Inquiry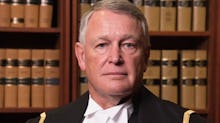 Canadian judge Robin Camp will face an inquiry by the Canadian Judicial Council for his controversially insensitive remarks to the alleged rape victim in the 2014 trial of Scott Wagner, who was charged with sexually assaulting a 19-year-old woman at a party over a bathroom sink. 
Camp is facing six allegations for his rape culture-reinforcing behavior during the trial, in which he called the victim "the accused" and asked her, "Why couldn't you just keep your knees together?" and also "Why didn't you just sink your bottom down into the basin so he couldn't penetrate you?" Camp had acquitted Wagner, but Alberta's Court of Appeal overturned the decision in 2015 and ordered a new trial, leading to Wagner's rearrest.
In the seven-day-long hearing, which is scheduled for Sept. 6, the three professionals — a judge, psychologist and expert on sexual assault law — who counseled Camp on the "social context of sexual violence and the psychological impact of sexual assault" are expected to testify as to whether he should keep his place on the bench, according to the Independent.
Agreeing that his remarks were inappropriate, Camp himself is expected to apologize but also to fight to keep his position. 
"He now understands that some of his prior thinking was infected with stereotypical beliefs and discredited myths," Camp's notice of response said, according to CBC. 
But a five-person panel of judges and lawyers will decide Camp's fate. In January, Alberta Attorney General Kathleen Ganley decided on the inquiry for Camp due to the public attention that the case received, including a series of petitions to remove Camp from the bench.  
Camp is suspended from hearing further cases. 
In the past four decades, Canada has had 11 complaints against judges that have led to inquiries. 
Read more: