7 Healthy Dinner Recipes You Can Make Without a Grill or an Oven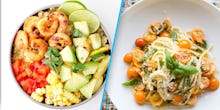 Sure, summer's primetime for grilling, but there are moments when you simply can't imagine positioning yourself in front of the smoky heat of the barbecue. This doesn't mean you can't eat well. 
In the dog days of summer, the stovetop might serve as your very best friend: From juicy portobello burgers to skillet tacos, the standard kitchen appliance is one that seems to be able to do it all, and with ease. 
Give yourself a break for skipping the grill (even if it's all summer long). You'll make up for it by eating one of the seven recipes below al fresco. 
1. Shrimp and Summer Vegetable Quinoa Bowl
This stunner of a recipe is easy to assemble, great for a crowd and ripe for leftovers. Its versatility allows you to leave out the stuff you don't like or don't have on hand and add in any veggie that's chilling in your crisper. Store all of the ingredients separately and your leftover lunch tomorrow will taste just as fresh as dinner. Get the Shrimp and Summer Vegetable Quinoa Bowl recipe here. 
2. Stovetop Mushroom Burgers With Pesto Spread
Despite their intricate appearance, these bad boys take just 15 minutes to whip up and serve. Portobello mushrooms offer the meaty, satisfying texture of a standard beef burger without sending your fat intake through the roof, and the pesto-mayo mix (sub Greek yogurt for mayo to really elevate the nutritional value) makes the whole dish stand out from any standard veggie burger. Get the Stovetop Mushroom Burger With Pesto Spread recipe here. 
3. Summer Roll Bowl With Peanut Lime Sauce
A deconstructed summer roll salad offers all the tastes and textures of a delicious summer roll, but requires none of the elbow grease. You'll probably want to put the peanut sauce dressing on everything, but it's savory thickness will really pair well with the fresh salad greens. Get the Summer Roll Bowl With Peanut Lime Sauce recipe here.
4. Simple Tuna Burgers
Here's a new way to use a standard can of tuna fish. You can serve these patties on a bun or top them on a salad; either way, you'll get a protein-packed dinner with ingredients you probably already have in the pantry. Get the Simple Tuna Burgers recipe here.
5. No-Cook Sun Gold Tomato Pasta
Fabulous news about pasta's healthfulness has recently surfaced, and it's making us want to plate delicious noodles in every way we know how. This particular dish puts tomatoes front and center, and the result is an artful masterpiece. Basil, oregano, garlic and a sprinkle of pecorino romano make the spaghetti extra special. Get the No-Cook Sun Gold Tomato Pasta recipe here.
6. Easy Taco Skillet
A skillet hodgepodge of Mexican tastes let's you have your taco and eat it too (that's the saying, right?). The one-pan masterpiece means there's less clean-up, and the mix of ingredients can be eaten in several ways, whether stuffed in a taco shell, plain on a plate or over a bed of lettuce. This particular recipe features ground turkey, but feel free to swap for beef or even vegan-friendly soy crumbles. Get the Easy Taco Skillet recipe here. 
7. Gluten-Free Crab Cakes
Hey, what's up, hello? Crab cakes let you pretend you're on the seashore, care-free about the tartar sauce smeared in the corner of your mouth, even if you're really inside a tiny little apartment. This gluten-free version calls for gluten-free flour, but you can really use whatever you have on hand. Make larger patties for a solo-dinner or make them mini if you're serving a big group. Get the Gluten-Free Crab Cakes recipe here. 
Read more: