Britney Spears, Pink, Mary J. Blige and More Team Up for "Hands," a Tribute to Orlando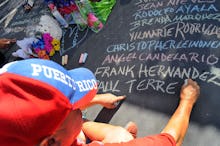 "Timeless." That's what songwriter Justin Tranter was aiming for when he was putting together the all-star tribute "Hands," dedicated to the 49 victims of the Orlando shooting.
"We didn't want to have any trendy electronic elements," Tranter, songwriter behind Justin Bieber's "Sorry" and an outspoken advocate for the LGBTQ communities, told Billboard. "We wanted it to sound classic, timeless and human. We want this anthem of positivity to be played for years to come."
He and his team sprung for raw talent instead, assembling one of the most star-studded line-ups in recent memory. The chorus collected includes: Mary J. Blige, Jason Derulo, Britney Spears, Selena Gomez, Pink, Jennifer Lopez, Kacey Musgraves, Troye Sivan, the Trans Chorus of Los Angeles, RuPaul and many more. 
They harmonize for a compelling purpose: to honor the victims and raise money for Equality Florida Pulse Victims Fund, the GLBT Community Center of Central Florida and GLAAD, Billboard noted.
Spears sings the soft, cooing intro. RuPaul contributes a soft whisper, "Take my hand baby," toward the end. Pink sings the hell out of the hook. 
The vocal parts fit together like a rainbow jigsaw, even though the stars were never in the studio together. Production from BloodPop and Mark Ronson helped Tranter piece it all together.
A portion of the money raised by the song will go toward education initiatives, according to GLAAD CEO Sarah Kate Ellis.
"This was an American guy who was born in Queens," Ellis told Billboard of the Orlando gunman, Omar Mateen, who opened fire at Pulse nightclub. "He learned that hate here in America. This happened on American soil, against a particular community."
Listen to the full song below and find it on iTunes here.
Read more: